Make Customer Support Videos to Build Lasting Relationships
Interacting with various customers each day can be tiring for any customer support team given the fact that most queries are either repetitive or complaining in nature. The tools and resource you use have massive impact on your team's ability to handle routine queries and face different customers with equal positivity. Using videos in customer support workflow does this perfectly.
A viewer is able to retain 95% of a message in video form and only 10% in text.
Imagine how time-saving and painless it would be if your customers recorded a video to show you exactly where the glitch is! If it's something new, you can simply forward it to the tech team and get back to the customer with an apology and assurance to get that fixed soon. Otherwise just record the solution and send the guided video to show the customer how it works.
Videos are indisputably the best way to communicate when you have hundreds and thousands of tickets to respond to every day. Convenient to connect with both the first-time users and repeat customers.
7 Ways to Use Videos for Customer Support
Videos are no longer limited to advertising, and there are endless ways to utilize them for servicing customers. Adding videos to customer support makes the whole experience joyful and memorable.  In fact, when used wisely, videos can reduce customer support cost and increase customer retention (ultimately profits) to a great extent.
A study concludes that just a 5% increase customer retention can improve the profits by 25% to 95%. Let's the most crucial video at different stages that can do wonders to your workflow.
1. Onboarding Videos
You can even personalize them.
When a new customer gets connected with a business, the very first step is to welcome them to the system. Earlier companies used to send texts, emails or connect over calls to onboard a new customer. But now, you can add videos to onboard new customers.
The best part of video onboarding is- there is no need to create onboarding content each time. You can script an onboarding video, record it, and share with every new customer whom you want to welcome. This is just same as text or emails onboard but more entertaining and appealing.
You can also customize the videos by giving it a personal touch. A personalized video grabs more attention and users can connect with it. Simply add one-minute personalized clip to the beginning of the video to address the customer.
2. Create How-to Videos
Educate your customers about how to use your product/service.
How-to videos are a fabulous way to provide enhanced customer support experience. Many people prefer learning themselves, and you can record videos explaining how-to queries related to your product/service and share the same with your customers. It can help your buyers through brief instructions and informative demonstrations. These videos can simplify the technical information and help your customer on how to use your product/service.
Look at this video by Slack in which they tell new customers about what Slack is. Using a playlist like this for a set of How-To videos can easily acquaint your customers with your product/services- putting less pressure on the team.
Customers also get the freedom to watch videos repeatedly if needed without asking the support team to repeat the steps.
For example, if you run an online shop and your buyer has any doubt related to their purchased product, they will definitely try to reach your customer support team. If you have a how-to video ready with you, you will not only make it easy for the customer to understand but save your time too.
StoryXpress Recorder lets you create videos and make them service-ready with many features like video playlists. View all features here.
3. Create Frequently Asked Questions Video
Enrich your knowledge base with engaging information.
Creating a knowledge base is a must for any business as a part of their customer support. The knowledge base is a compilation of frequently asked questions, instructions, troubleshooting issues. While many businesses still depend on text format knowledge base, creating unique and creative videos for explaining instructions, troubleshooting and covering FAQs is more useful in terms of returns.
Recorded FAQ videos are like tutorials that simplify complex concepts and information. Users can learn at their convenient time and speed without any interference. A survey says that 67% of users prefer to resolve their issues with self-service than seeking help from any customer support team.
FAQs videos help businesses build a strong bond with their customer. It seems like someone is sitting next to the customer and solving their queries. Animated videos, GIFs are also helpful in covering FAQs videos. Check this video by Hubspot in which they introduce users to the CRM.
Handling FAQ
Many businesses have a dedicated page for FAQs on their website where customers have to search their queries themselves. Some even connect their website with their social media handles so that customers can directly connect with them for any query.
Instead of sending the responses to every customer individually again and again, it is a good idea to reply with the FAQs answer video's link. This saves the support executive's time while giving an extraordinary experience to the customer.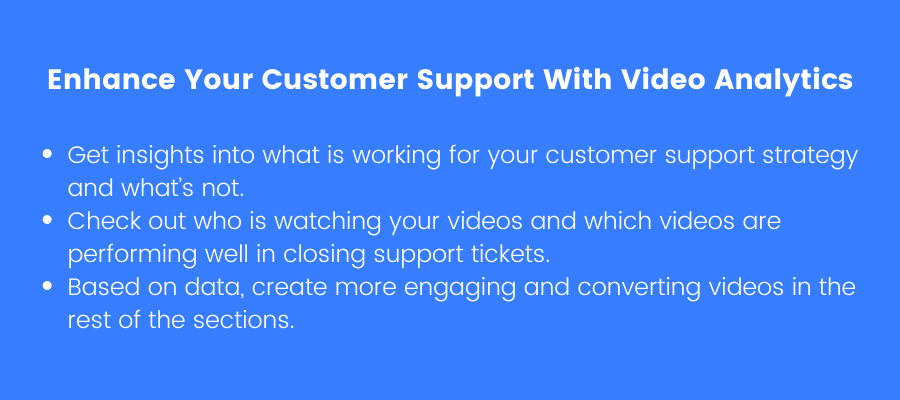 Videos help customers get quick answers without taking much of your time, so the avoidable reasons like delay don't happen and you cut down on customer churn easily. When people get something out of the box and regular expectations, they stick to the service for a longer time.
Note: Your videos should be engaging with visuals, on-screen directions, images, GIFs to answer the queries clearer.

4. Review & Testimonials
A healthier way to connect customers with business.
When we use any product/service either we like or dislike it. In both cases, we leave a feedback. The internet has broadened the scope to share customer reviews. Customers from any region have the freedom to share their opinion, and undoubtedly this affects the business. Remember the reviews shared by reviewers online; you can also ask your customers to record a short 1-2 min video like that. Check this one for reference.
Businesses use satisfied customer's testimonial as a way to attract new prospects. That is why websites have a dedicated space for testimonials. A happy client is an asset, and they can drive more sales for the business with their positive feedback.
But how many new prospects spend time on reading a text testimonial of a previous user? Instead of writing a testimonial, you can ask your happy customers to record a video testimonial which will give your next customer a personal feel.
You can also share these video testimonials on your social media sites to attract more conversions. But keep in mind to add short and crisp videos to social media handles as lengthy videos may sound boring to the new prospects. Check this one.
PRO Tip: Try to utilize your existing and real customer's testimonial everywhere, as much as possible to do away with the impact of fake reviews.
5. Recorded Webinars
Extend a different level of knowledge to your customers.
Hosting webinars is another way to use videos for your customer support. Viewers can get more knowledge about your brand and the products/services with the webinars that you conduct for knowledge sharing. As humans connect with personalized experiences easily, webinars work as a connecting bridge between your business and the customers.
Host a webinar as per the audience relevance. Provide a tutorial on how to use your product/service or share your newly launched product descriptions.
Record a webinar video and share with your customers and let them watch it in a convenient time. Webinars not only add value to your brand but also provide new deals and conversions.
Post your recorded webinars in the help centre, knowledge base or stream them on your social media platform so that maximum people can watch it.

6. Say Thank You with a Video!
Customers love this form of appreciation.
When a client is onboarding, and you are making a deal out of it, or you have resolved an issue with a purchased product- what's next?
The support team usually shares gratitude with a thank you note for the business or connectivity. Please get rid of old fashioned thank you notes and replace them with a thank you video.
Thanking your customer via a video is the perfect way to impress them. Want to leave your footprint in their mind? Share a personalized thank you video- address them by their name to give it a unique touch.
Thank the customer with their name and share information on how to get back to you in future if they need help from you. Customers can realize the effort behind creating personalized thank you videos and they appreciate it. This way, you share a strong relationship with them, and customer retention is easier.
7. On-Demand Videos
On demand videos are like the alternative of real-time calls or videos. When you don't have time to connect one-on-one with the customer or don't have pre-recorded videos, then you can utilize on demand video facility to support the customer.
For instance, when a customer faces any issue with your product/service, you can simply ask them to record the screen and submit the same. This way, you can understand the exact problem and resolve the issue as soon as possible. Your team can create a "how to resolve the issue" video by recording the screen and can resolve it faster. It saves time of both the parties.
With videos, you not only gain trust but also get more business and references in future. After all who doesn't like visual content instead of a text that seems lengthy, time consuming and needs more attention to details to understand the purpose. Videos are easy to understand and super easy to digest. So, next time when you are stretching a hand of support to your customer, implement video into it and witness the magic!
So, your business should focus on holding back its customers with the most innovative and personalized way of customer support. And guess what- video is one of the best choices for this.