Make Maria fall in love with your brand
Create millions of personalized marketing videos for each user, occasion, and device. Improve customer engagement and build deeper relationships.
Talk to people, not leads
---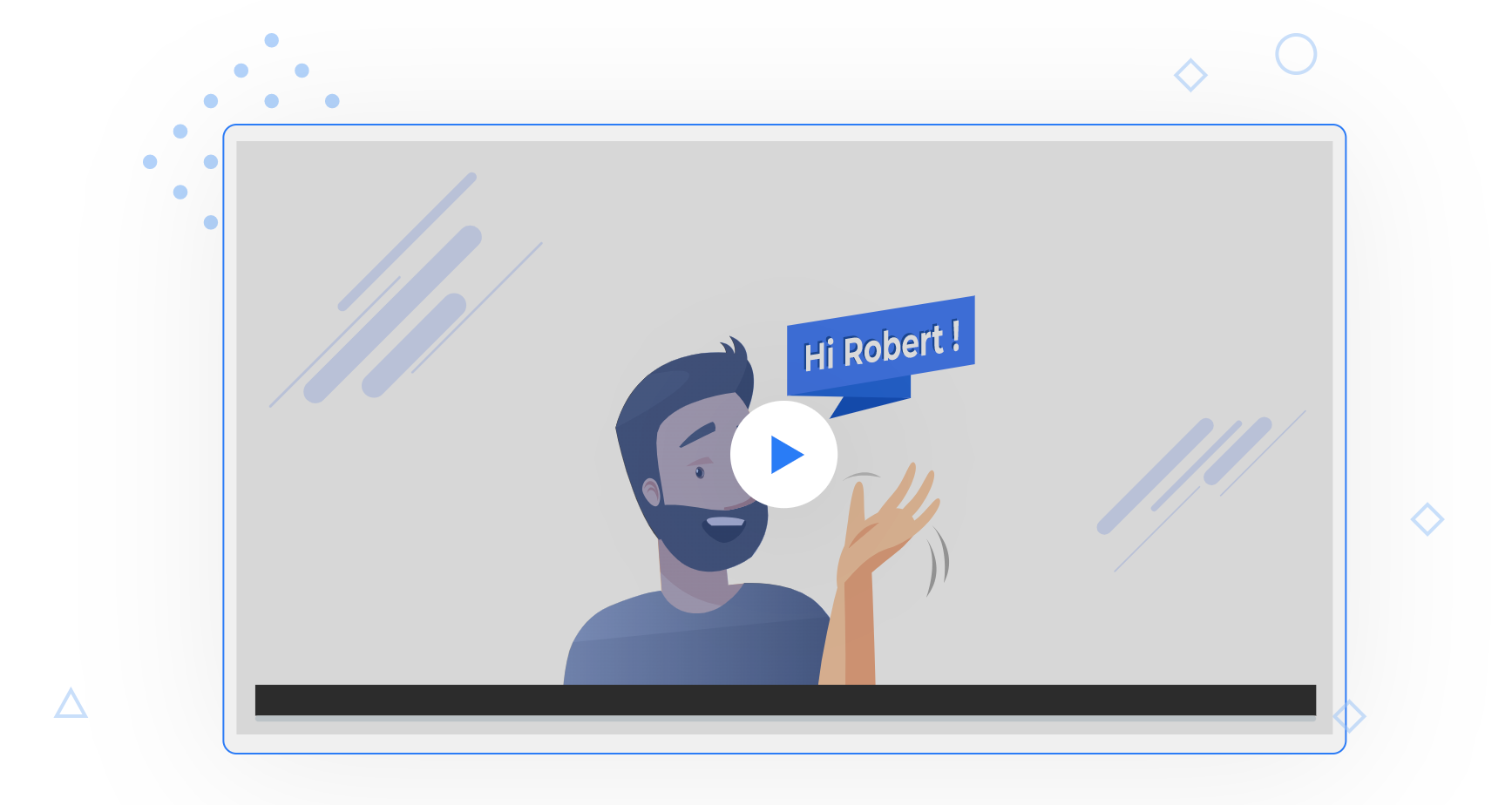 Talk to people, not leads
---
Consult
Our creative experts can help you identify the best personalization options for your brand
Create
Create a brand new video, or customize an existing one for a personal touch
Campaign
Deliver your personalized messages via your website and email campaigns. Say hello to increased conversions!
Elevate your brand with
personalized video marketing
---
Acquistion
Hyper-target individual prospects at scale with personalized video marketing via email, Facebook, Instagram, and Twitter.
Conversion
Boost conversions and stay ahead of the competition by always showing relevant content to each prospect.
Loyalty & Retention
Give your customers the unique attention they deserve with tailor-made video content to increase loyalty and sell more.
FAQs
It is a lightweight Google Chrome Extension that lets users quickly record their screen & camera, and share it instantly with their connections through a simple copy paste link. It is a great tool for sales, marketing and customer success professionals; who can use videos to put life into their everyday businesses. Additionally, with "work from home" becoming the new normal, remote teams will find the StoryXpress recorder extremely useful in making asynchronous conversations, brainstorming ideas and providing visual feedback.
Yes, we give a free trial of 28 days, wherein you get to explore the platform, collaborate with team members and create amazing video content.
The StoryXpress Recorder is a great fit for the following business units & functions:
Sales Teams: By supplementing reach-outs with videos you get a better shot on conversions. Videos boost email open rates by 19% and reduce subscriber churn rate by 26%. If you are looking to accelerate your sales, there is no better fuel than videos.
Marketing Teams: Marketing videos let you own the entire digital space. From product awareness to feature updates, videos help marketers create a memorable identity for their brand.
Customer Support/Success: Videos reduce pressure off your customer support team by helping customers (a) understand the product and its functionalities faster (b) troubleshoot problems by themselves.
Intrateam Communication & Training: Use videos to spark conversations, bring teams together and deepen the work-bond. A video library makes for a perfect knowledge center as it helps store video content for training & development.
Make videos work wonders
It is a win-win opportunity where not only you get to make quick money but you also help businesses grow around the world.
Add StoryXpress to your software suite and make videos an essential part of your business
Get data-driven insights on your videos, ad-free video hosting and all the tools you need to leverage the power of video.