As a small business, you work more than 24 hours a day. Or you would like to, certainly. It's a constant struggle to keep things in order on a daily basis. There are small business tools you want and then there are tools you need.
And trust me small business tools and software are not out to drill holes in your pocket. This is a godly list for small business owners looking to save time and labour. These tools are going to change the way you do business.
Wave
A free app for accounting. It includes invoicing, payroll, and personal budget. Aimed at professionals, Wave provides easy-to-use invoicing and billing software. ‌

Wave offers a cloud-based accounting system that allows you to sync your official bank statements directly with the app without installing anything. It is a double-entry accounting tool, which includes services like direct bank imports, expense tracking, and invoicing.
Wave can be integrated with many other tools like Etsy, for e-commerce businesses. Wave also supports adding taxes. It includes the US Sales tax and B2B tax portion calculator. Wave also offers a paid freemium model that has no limit on the usage of tools.
QuickBooks
Excellent tool for bookkeeping. It offers time tracking with invoicing, payroll, invoicing, and cloud-based features. It is a complete standalone accounts department. Starting at $39 a month.

QuickBooks is made specifically for small and medium-sized businesses. It offers two types of accounting services, one for the cloud and one on- the desk. QuickBooks Online is a monthly subscription service, through a secure web link. It also allows the import of Excel spreadsheets.
QuickBooks offers many state of the art features like remote payroll outsourcing, electronic payment functions, online banking . It also allows integration with Google Maps, Microsoft Outlook for direct emails. It also has additional add ons for tax preparation. ‌
YouNeedaBudget.com
YouNeedaBudget is an another good example of small business tools. It is a complete budget and finance software for small businesses. Includes incoming tracking, debt, budget management, payroll, and invoicing. Starting at $60 a month.

YouNeedaBudget offers a complete budgeting system for small and medium sized businesses. It sets up a common channel for setting a personal budget and budget with partners, or investors. A goal tracking tool helps you set targets according to your requirements, and achieve them.
YouNeedaBudget follows a present reporting model where they give you live updates of your expenses. In line with this, they offer customer support that helps you achieve your financial goals. They have a 34-day free trial, and they are a truly cross-platform app, available for the iPhone, iWatch, Desktop, etc.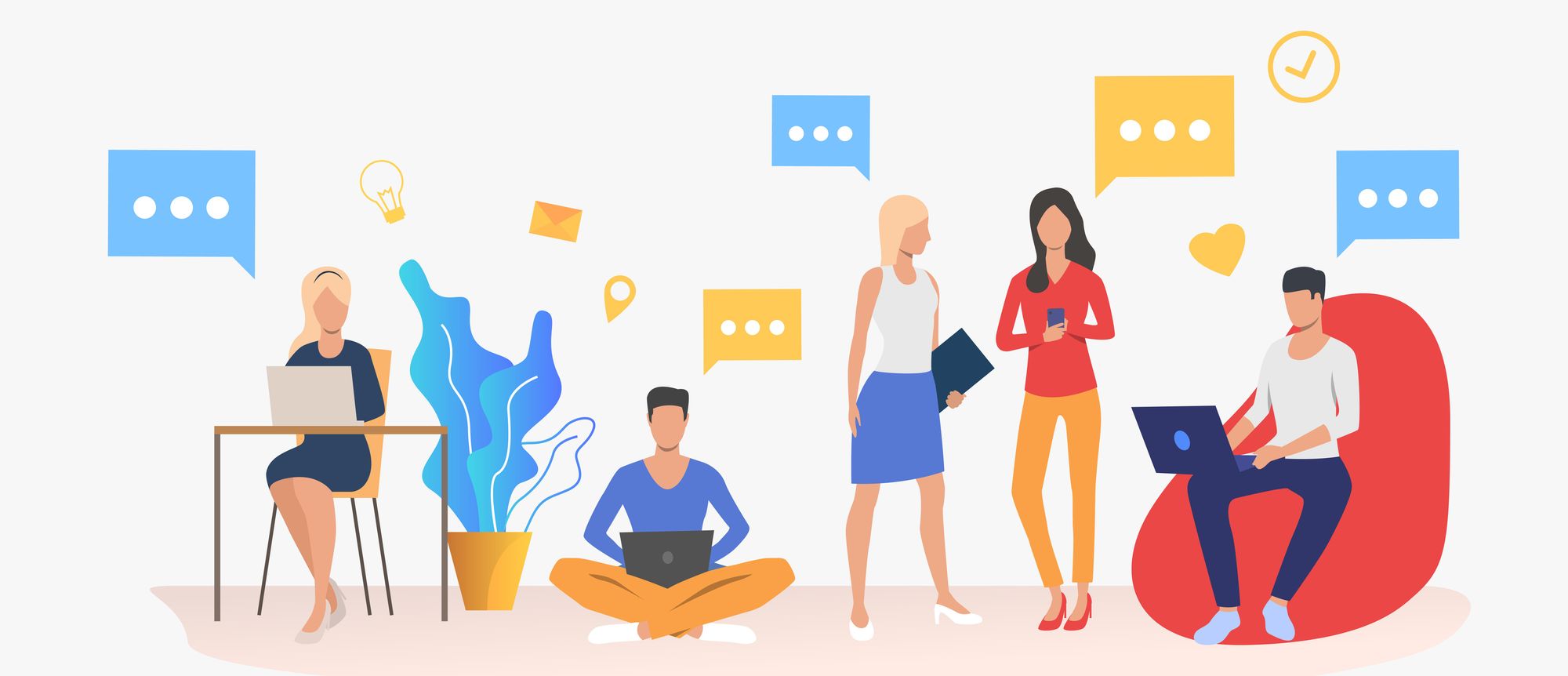 Google Meet
Easy to use platform for communication. Message and video call with Google application integrations. Access through your inbox. Share your desk and make presentations. Use through a browser or app. Free for 1-hour meetings. (Increased to 24 hours per meeting during CoViD times) ‌

Google Meets also offers an upgraded version for larger organizations, which allows 250 participants, and live streaming with over 100,000 active viewers. Even for the free version, Google Meet allows up to 100 participants and an unlimited number of meetings. ‌
You can also add live captioning during the meeting, with the AI-powered closed captioning tools. It has an adjustable layout with screen settings. You can pin, mute or remove participants as a host. And it also allows screen sharing for presentation.
StoryXpress Recorder
A revolutionary tool in terms of communication. Offers a video-based communication platform for customer support, sales, and remote teams. It allows you to make screen and webcam recorded videos and offers advanced features to make videos interactive and marketable.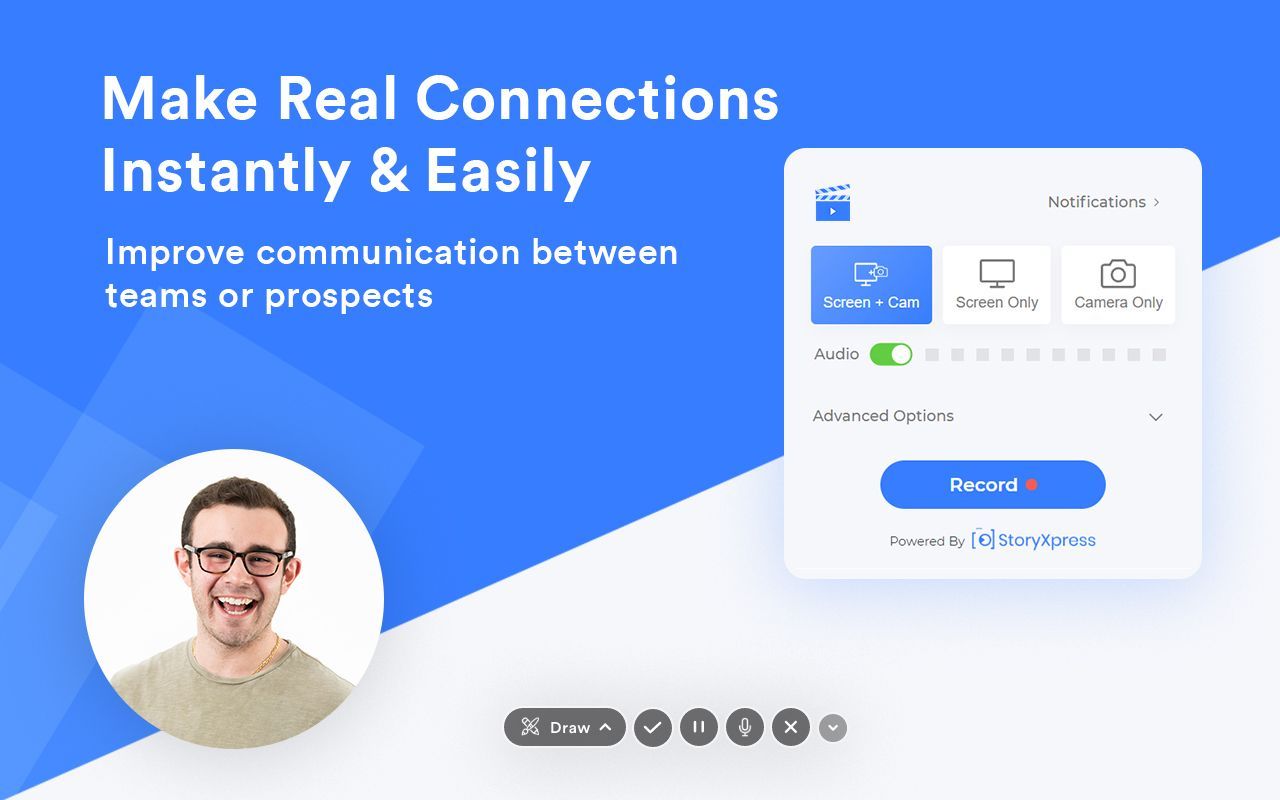 StoryXpress Recorder allows you to brand your videos. You can customize your videos page as per your brand colors or show your videos on your domain. Easily embeddable in emails, blogs, and landing pages and integrated with common apps like Slack, Calendly, and Zendesk.
Track the videos you share using UTM parameters and analyze views with video engagement heatmaps. The recorder lets you add buttons and banners so you can give call-to-action in videos. Generating leads is attainable using this feature.

Nextiva primarily serves as a unified communications platform that includes cloud-based VoIP services, team messaging, and video conferencing. It provides small businesses with the tools they need to communicate effectively, both internally and externally.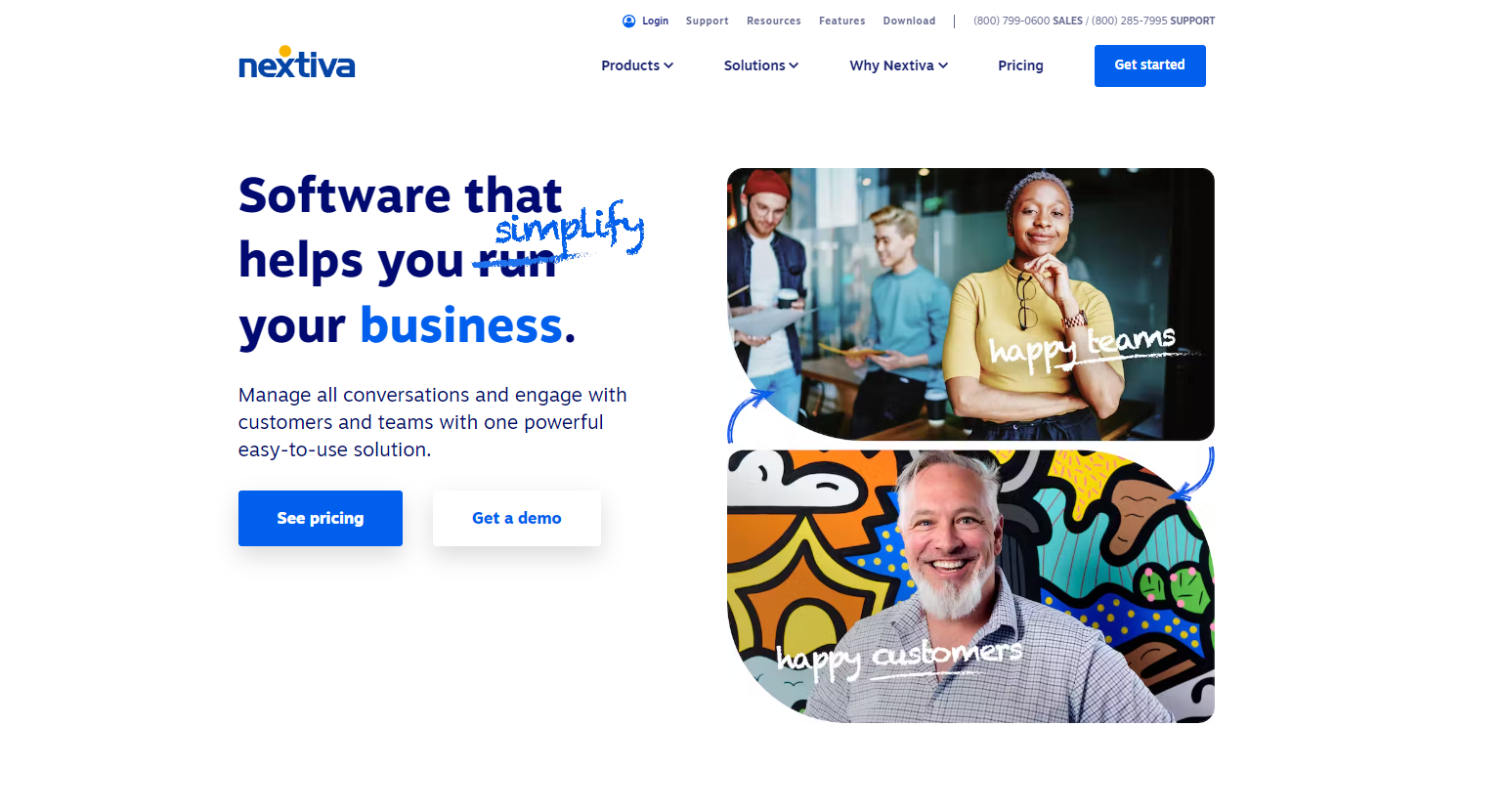 With Nextiva, businesses can make and receive calls over the Internet, eliminating the need for traditional phone lines. It offers essential features like call forwarding, voicemail, and call recording. In addition, the platform includes a messaging tool that fosters real-time team collaboration, facilitates file sharing, and helps with organization. Businesses can also conduct virtual meetings and video conferences, making remote collaboration with clients and team members efficient.
One significant advantage of Nextiva is its strong integration functionality, allowing easy connections with popular business applications such as Microsoft Outlook, Google Workspace, Salesforce, Microsoft Teams, and others. Regarding pricing, Nextiva's costs are determined by team size and the selected plan, with three options available: Essential, Professional, and Enterprise, starting at $25.95.
Slack
A collaboration tool that offers a complete business communication platform. It is an extremely powerful tool in terms of UX. It follows the Internet Relay Chat model and includes live chat rooms. Slack offers 10, 000 recent messages throughout the platform for its free model.

Slack teams allow a virtual workspace through a web link. It is a community platform that allows message boards, and task targets. Slack allows both public and private messaging channels. ‌
Allows seamless tool integration for apps like Github, Google Drive, Trello, Zendesk, Zapier, and many more. It offers over 150 integrations on its software application. Slack has apps across iOS, Android, and across MAC OS, and Windows. It is a freemium product that allows a free sign-up with paid add-ons and features. ‌That said, there are numerous Slack alternatives to consider as well.
Skype
Skype is a telecommunications application that offers a video chat interface with voice calls between computers, mobile devices, and even smartwatches. Skype also offers messaging services that include audio, video, and text images. ‌

Users can host video conference calls on Skype, and even communicate with traditional landline telephones through the Internet. It is a centralized Azure service adjusted for businesses.
Skype uses a freemium business model that allows Skype to Skype-based calls free of cost.
Ring4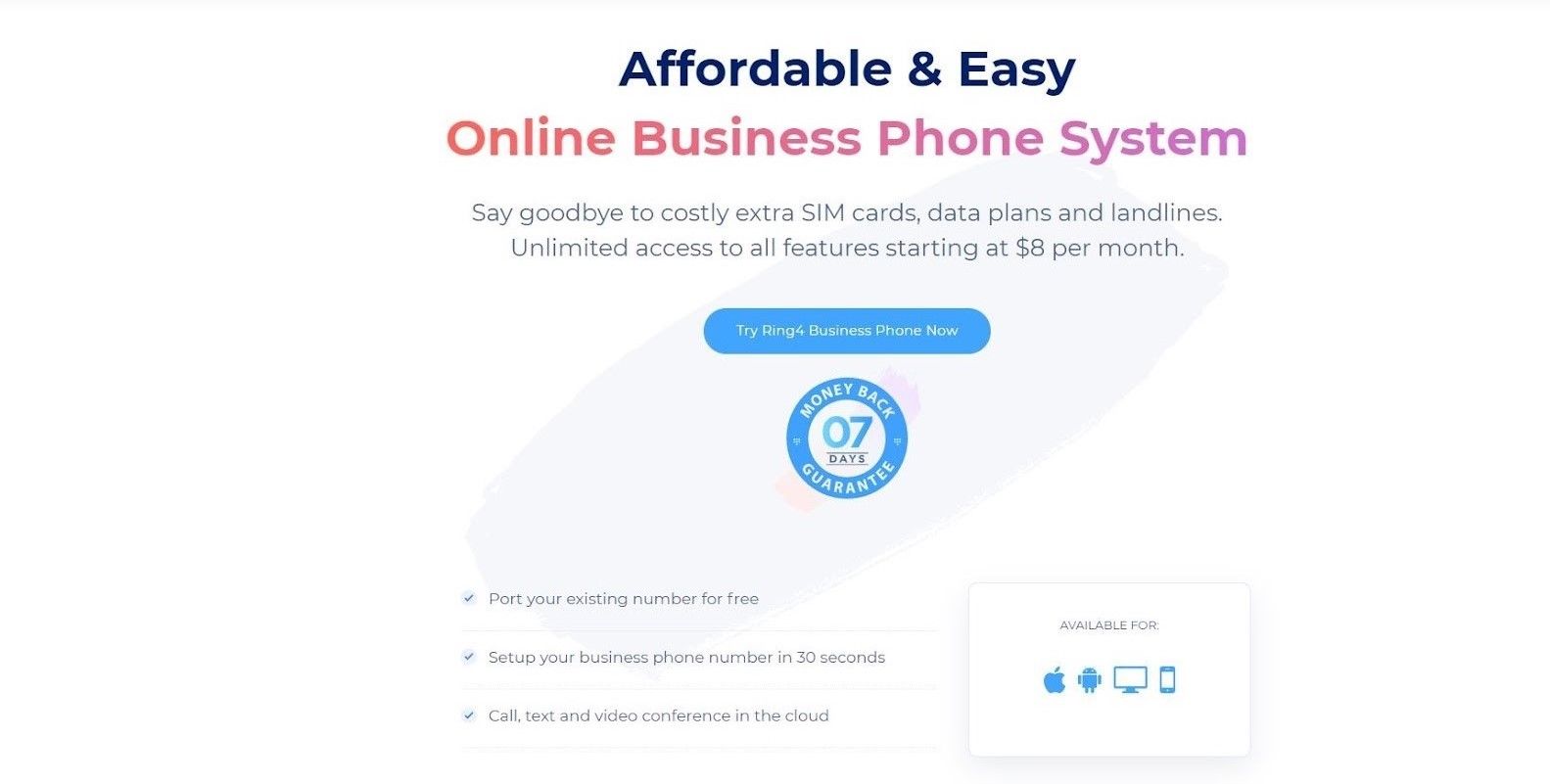 Ring4 offers a simple business phone system in the cloud where you can get a full-fledged virtual number setup running in 30 seconds for you and your team. Their online console account is a business admin center that allows you to dial local and international numbers, add teammates, assign new numbers, manage shared company contacts, and capture call recordings and transcripts.
The easy-to-use interface makes it efficient for users who aren't much tech-savvy and makes remote work smoother.
If your business is scaling, then Ring4's business-calling solutions might be right for you.
Fyle
Fyle is an expense management software that enables employees and finance teams to track and report expenses in real time. With Fyle, employees can keep track of their expense receipts from everyday apps like Gmail, Outlook, Slack, Microsoft Teams, and Fyle's web and mobile apps. Fyle also enables Finance teams to simplify expense management with smooth approval workflows, pre-submission policy checks, and integrations with NetSuite, QuickBooks, Sage Intacct, and Xero. Fyle also provides detailed audit trails for complete compliance and control.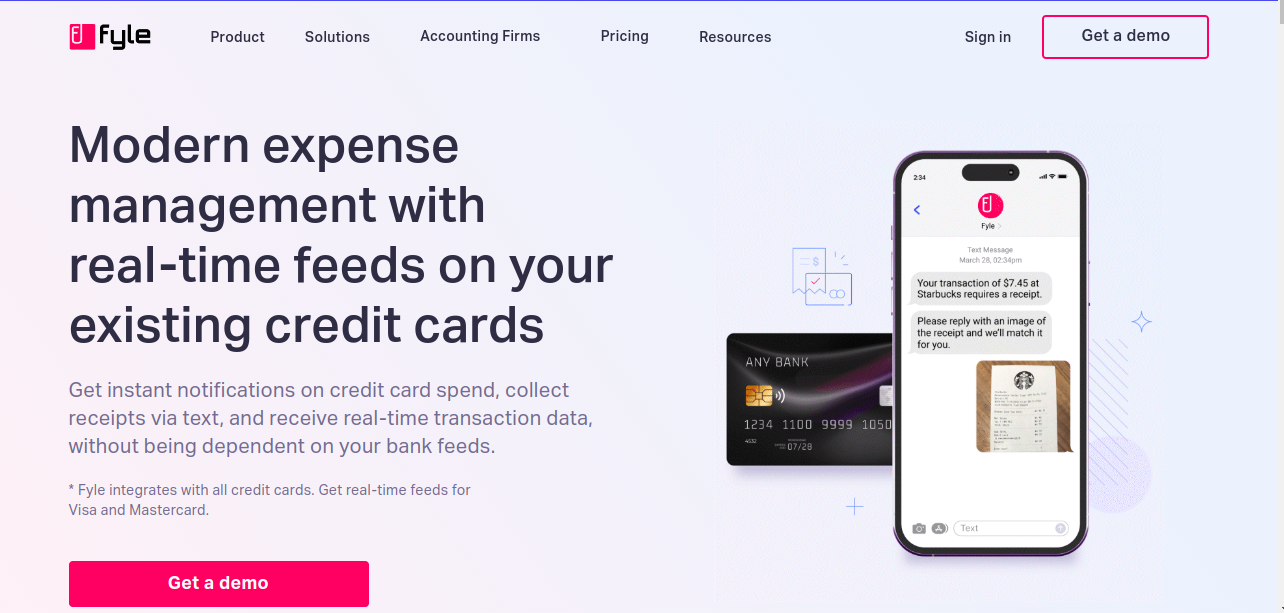 Fyle integrates with Visa and MasterCard to bring real-time reconciliations on cards you already have. Employees get instantly notified when they make a card spend and can reply with a picture of the receipt for automatic reconciliation.
Fyle's pricing depends on the number of active users - users who submit at least one expense report in a month. The Standard plan starts at $6.99 per active user/month, paid annually.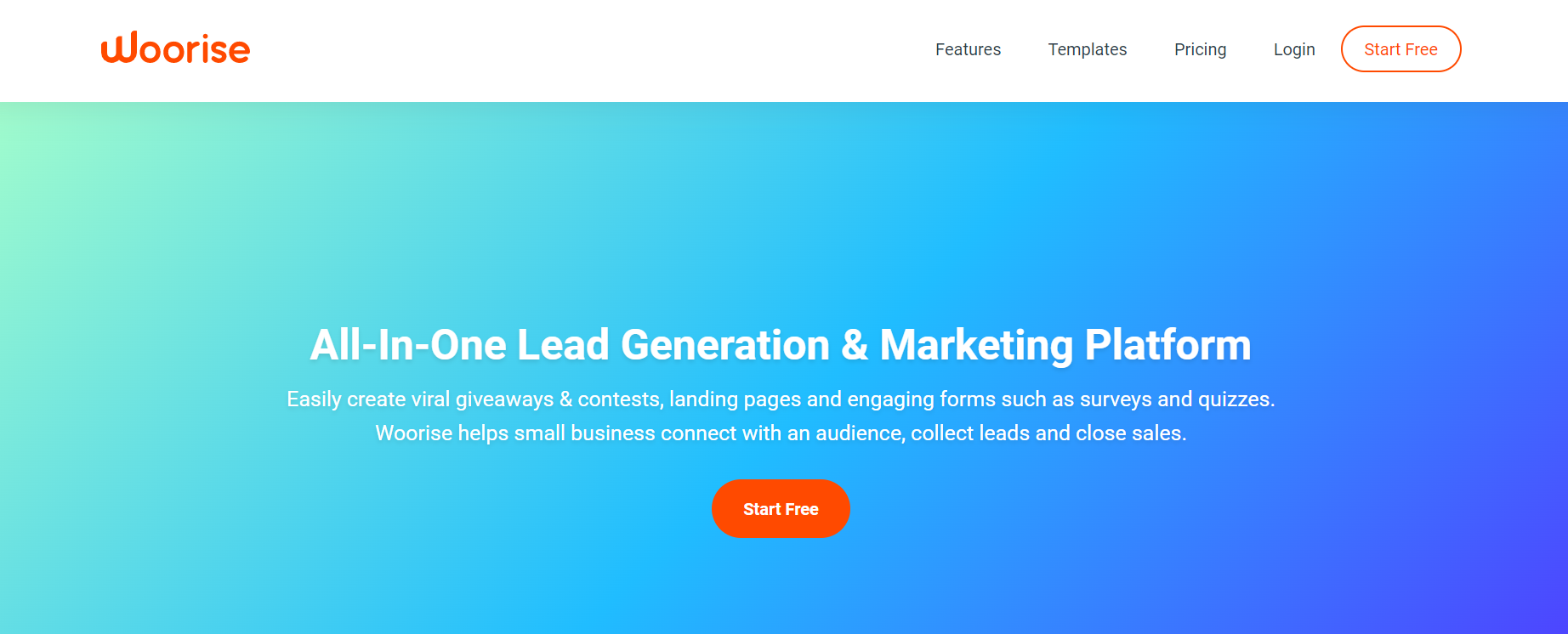 Woorise is an all-in-one lead generation and marketing platform that allows you to create a wide range of interactive campaigns such as landing pages, forms, surveys, quizzes,  viral giveaways & contests, accept payments and more to collect leads and engage your audience.
Woorise offers many tools to engage and grow your social media audience. Features include a modern landing page and form builder, 40+ fields and thousands of social actions, 100+ interactive templates, conditional logic, real-time email notifications, multi-language support, and built-in analytics.
Woorise also integrates with popular marketing platforms such as Mailchimp, Hubspot, ActiveCampaign, Aweber, Google Analytics, Bitly, Zapier, PayPal, Stripe and many more.
Starting at $29 per month. This allows you to run referral and instant win campaigns with multi-language support and advanced limit submission rules. It also allows you to create advanced quizzes and surveys starting at $49 per month.

ScheduleOnce
ScheduleOnce is a free scheduling tool. It lets you build scheduling scenarios for your organization and sends them out to your team. It lets you make appointments with customers and adds it to your business schedule.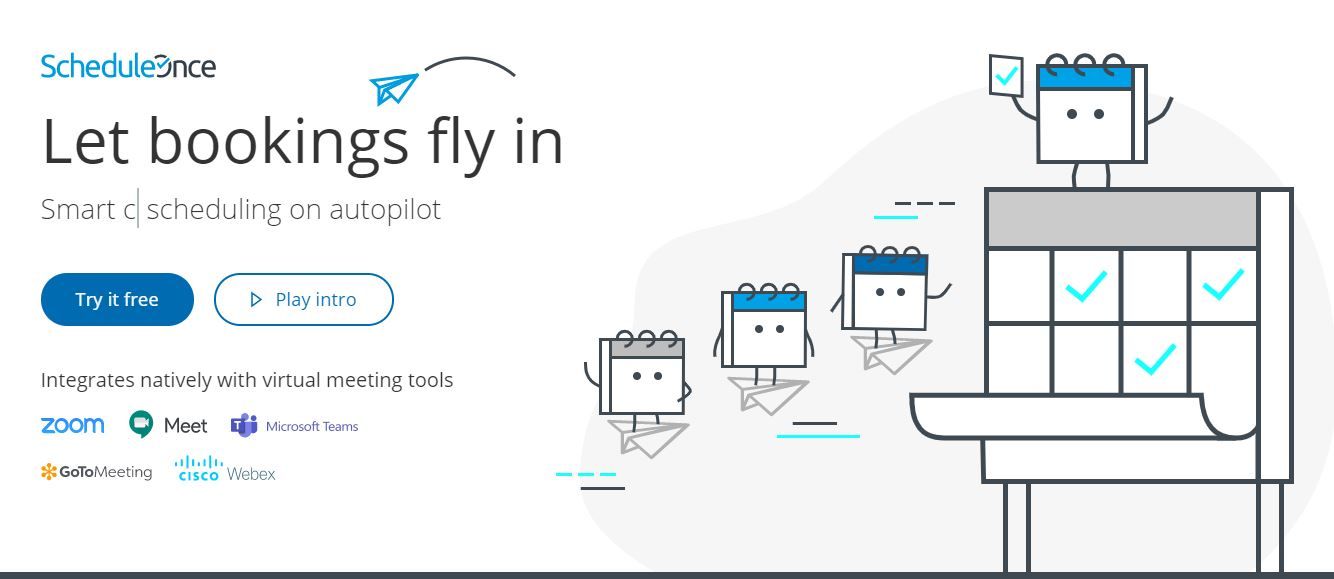 It has a thoroughly integrated interface and syncs with Google Calendar. Allows you time as blocks to each task, and assigns it to specific teams, automatically. Uses your scenario to allow new bookings and give you time and workload management stats. These management stats can be used on time-tracking payrolls.
ScheduleOnce accepts appointments through booking pages and calendars. It also offers meetings, with customizable settings and event types. You can book your resources online through ScheduleOnce, by creating booking pages for rooms.
Pixpa
pixpa is an all-in-one platform for creators and small businesses to create beautiful, professional websites complete with a built-in online store, blog, and client galleries. Pixpa's versatile platform has everything you need to showcase your work, share ideas and sell your stuff online without any coding knowledge.
Pixpa stands out from other website builders with its focus on simplicity, flexibility, and powerful editing features. Pixpa offers 150+ stunning, pixel-perfect, mobile-friendly templates to fit every style and requirement. Adding pages to your website is a breeze with Pixpa's drag-and-drop page builder.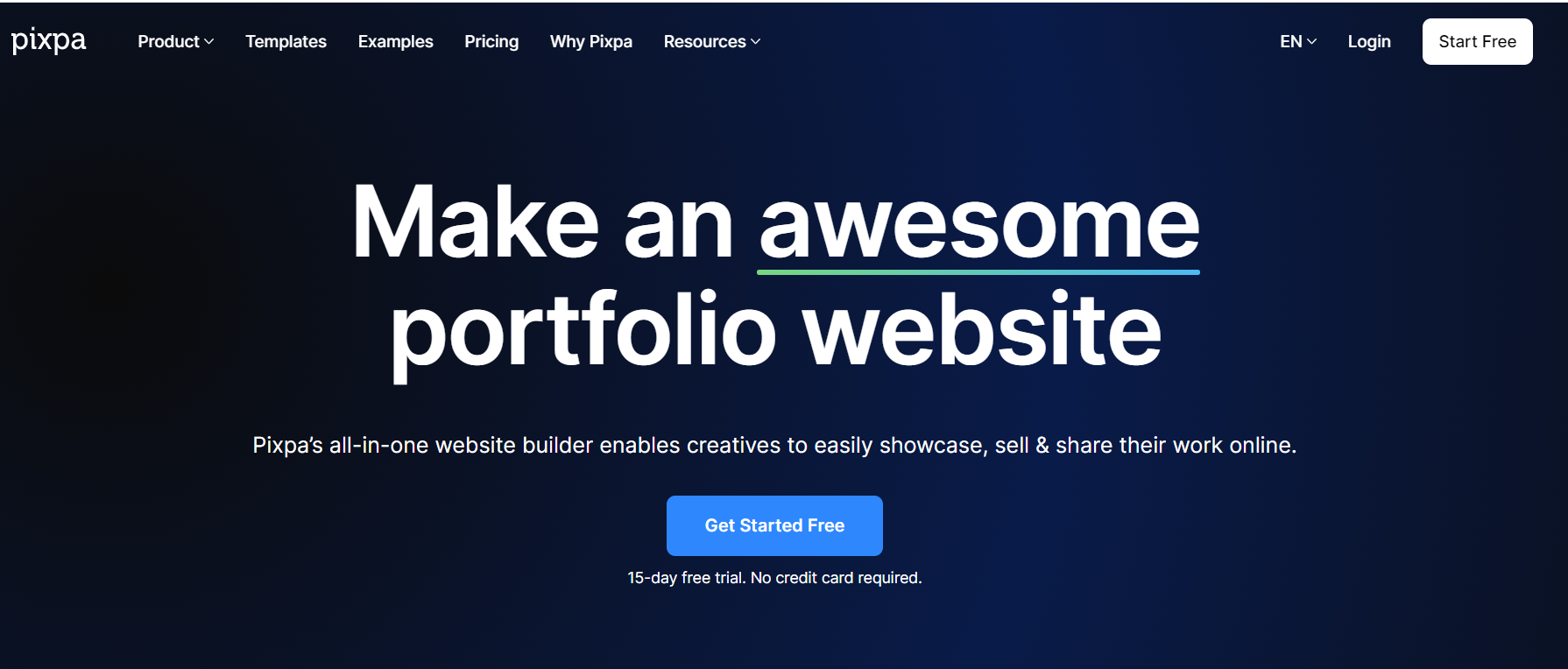 Pixpa offers a full-featured e-commerce store builder with all the tools required to run your online business - products and inventory management, discounts, taxes, shipping, abandoned carts, and easy order processing.
A unique additional feature photographers love is Pixpa's ability to sell images as downloads and prints with automated order fulfillment.
With a host of built-in tools such as SEO Manager , Marketing Pop-Ups, Announcement Bar, and much more, you don't need any extra plugins to start growing your traffic and converting more leads.
Pixpa offers 24/7 fast and proactive customer support through live chat and email. There is also a comprehensive help center with guides and step-by-step tutorials.
Pixpa's all-inclusive pricing plans range from $5 to $25 monthly. Discounted annual and 2-yearly options are also available.  All plans offer generous resources, unlimited bandwidth, SSL certificates, and 24/7 support.
Start creating your website with a free 15-day trial
Asana Calendar App
A calendar that lets you track projects in real-time. It is an app designed specifically for small and medium businesses, including freelancers. It allows you to schedule tasks and projects with time management.
Asana allows you to manage workload and deadlines, reschedule work, and create personal task lists. It allows you to categorize tasks in terms of priority and urgency. Offers a seamless timeline tool that helps you manage dependencies and change schedules. ‌
Includes reporting tools, division of tasks and assignment features that allow you to track group projects. You can customize the calendar according to need and divide timelines based on individual employees, groups, project tasks, and even company goals. It has a cross-platform app. Costs start at $10.99 per month. ‌
Deputy
The Deputy is a cost-saving scheduling app that allows you to perform everything from day-to-day work to long-term projects with ease. You can create perfect schedules for employees based on demand forecasts, wage costs, and team availabilities.

Deputy also allows you to time track employee hours. It is an all-in-one platform for assigning tasks and managing staff schedules, timesheets, attendance, and leaves. It comes with a real-time attendance tool that notes everything, from scheduling a time of work to checking who is late and when. It also imports and approves timesheets. Starting at $2.50 per month.
You can manage to leave balances and leave requests using Deputy. You can make sure of fair workweek compliance to protect yourself from compliance risks using Deputy. Deputy can also be linked with your payroll, POS, and HR apps. ‌
Taggg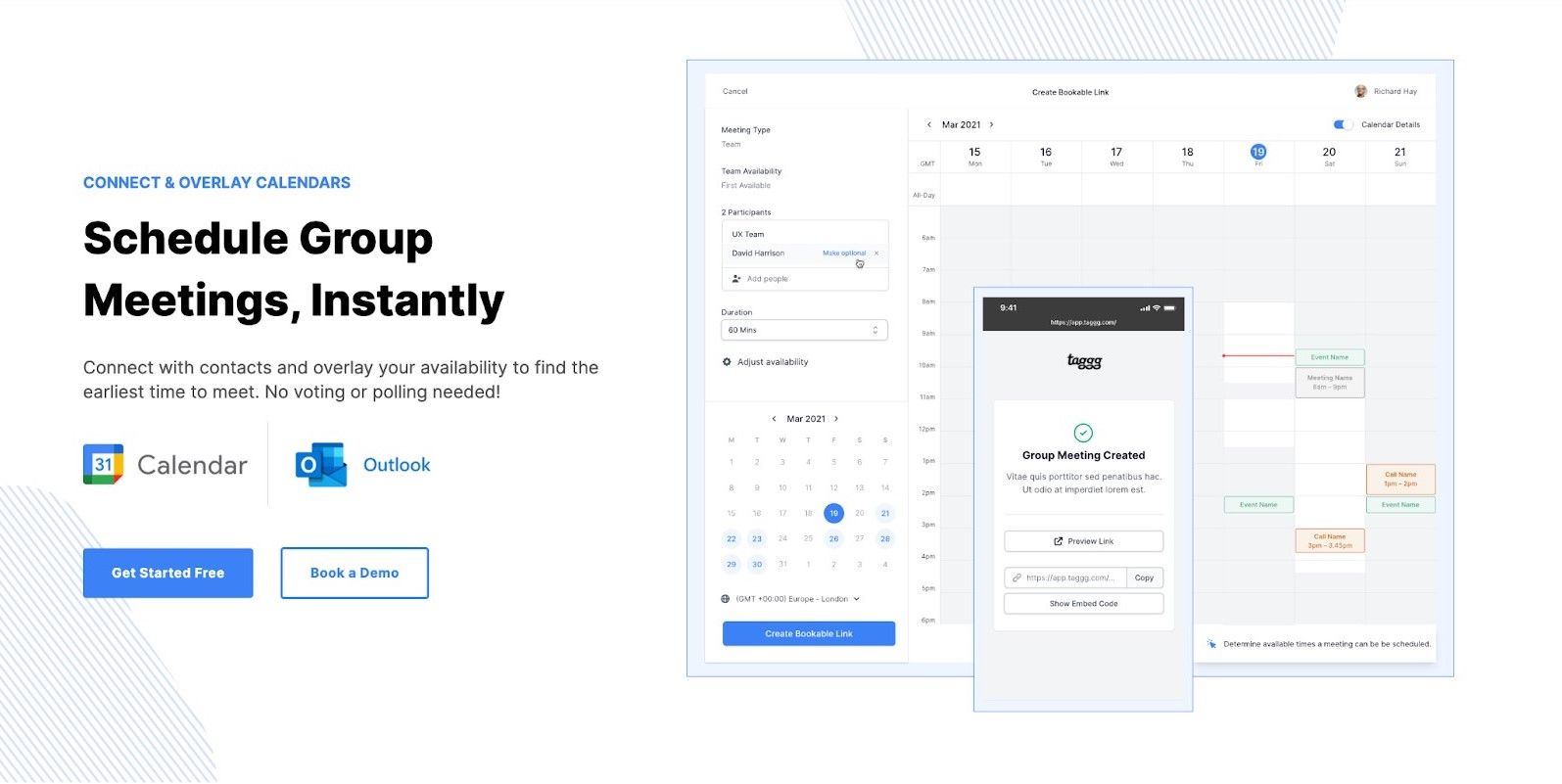 Taggg helps schedule group meetings by allowing you to privately connect your calendar(s) with people on your team and outside your company to find available times and book instant meetings that work for everyone.
Features:
Connect with people's calendars privately
Google and Microsoft Calendar support
Integrates with Google Meet, Zoom, Ring4, and Zapier
Schedule instant meetings
Shareable calendar links
Automatically find first available time for a group to meet
Customize your availability for specific contacts and meetings
Unlimited meetings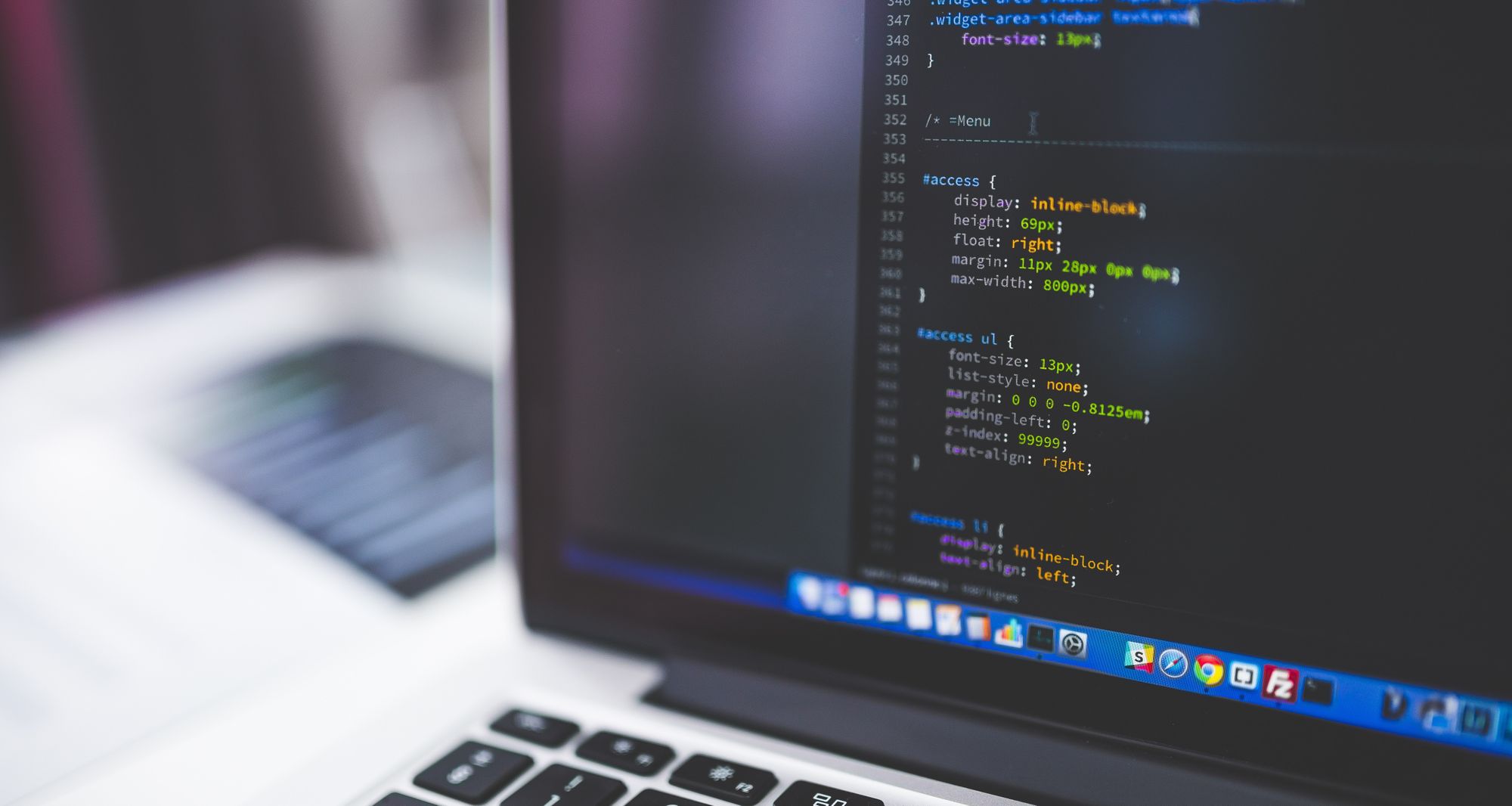 WordPress
Easy to use free platform for beginners with a large reservoir of page builders, free themes to get your website up and about. You can use it for your official blog. Add advanced premium tools or themes according to your needs. ‌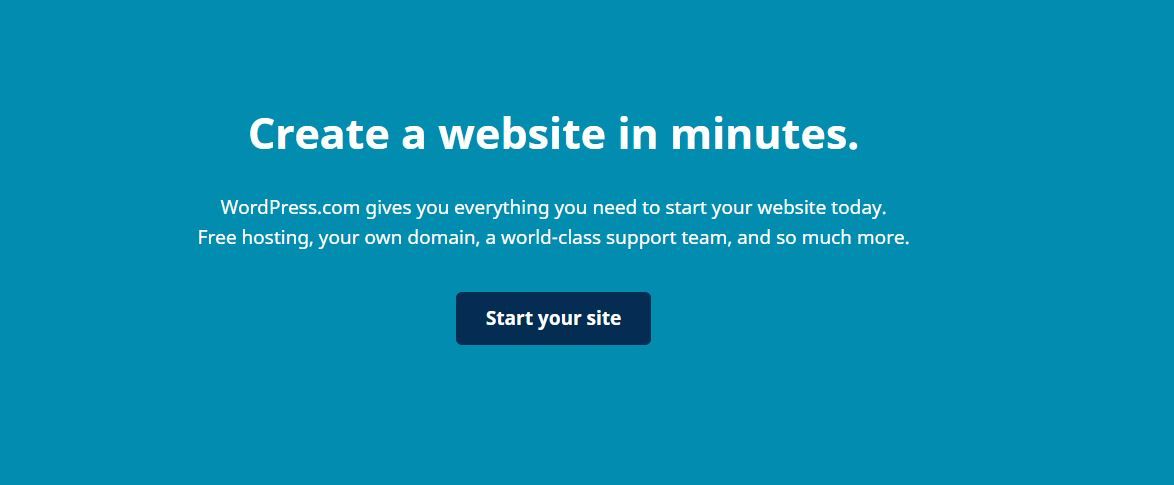 Wordpress is an open source management service for website content. It has an extremely popular blog publishing system. You can manage mailing lists, forums, media galleries, membership sites, learning management systems, online stores all with Wordpress.
WordPress allows web developers to use and develop their own plugins. WordPress allows you to install and use various themes for your website with an appearance tool. You also use CSS to add style to your website and customize your website through Wordpress. It a freemium tool, that offers addons for a fee.
WordPress provides a thriving ecosystem for businesses, offering the freedom to create and implement custom blocks tailored to your specific needs. With WordPress, you can effortlessly install and apply a diverse range of themes to give your website an improved customer experience, all easily customizable through an intuitive appearance tool.
Squarespace
A great small business tool to get a professional looking website within a few hours. Squarespace is arguably the most powerful website building and hosting software. ‌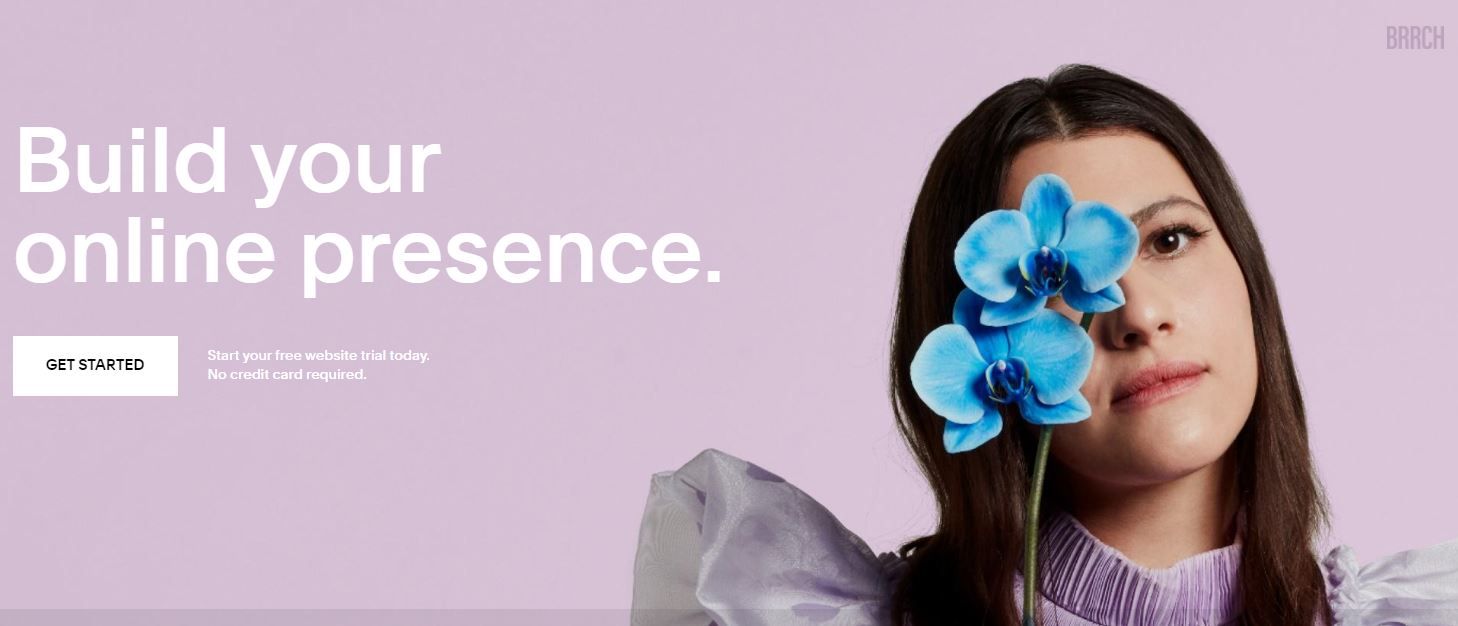 Allows you to choose from exclusive designs, offers an inbuilt ecommerce and analytics tools. Squarespace has hosted more than a million websites. It offers unique prebuilt website templates with an array of additional drag and drop widget elements.
Starting at $12 a month, users can also create their own custom templates with Square Space. It also offers a wholesome website building platform that includes logo building, search engine optimization, and payment interface integration. ‌
Wix
Customizable, responsive, and free website builder. Has a drag, drop feature, and allows you to add video backgrounds, scroll effects and animation through an inbuilt editor. ‌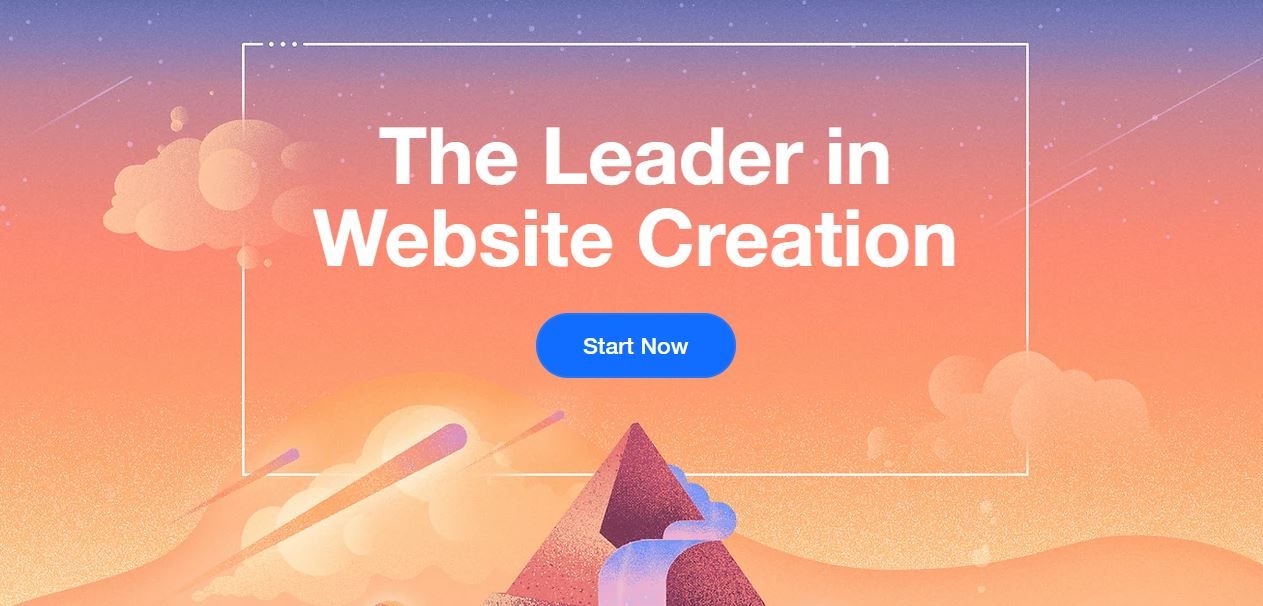 Wix offers premium packages to users to connect their sites with domains and remove ads. It provides access to form builder and offers a complete e-commerce building platform a headless commerce approach is even possible. Wix is thoroughly optimized for building mobile websites and offers apps for your websites. The best thing is, you can use Wix for free as long as you want, with a unique Wix domain.
Wix also allows JavaScript custom code to its webpages and allows HTML scripting. Users can add in-house social media plugins and e mail marketing campaigns. It is a freemium service, which allows you premium upgrades as well.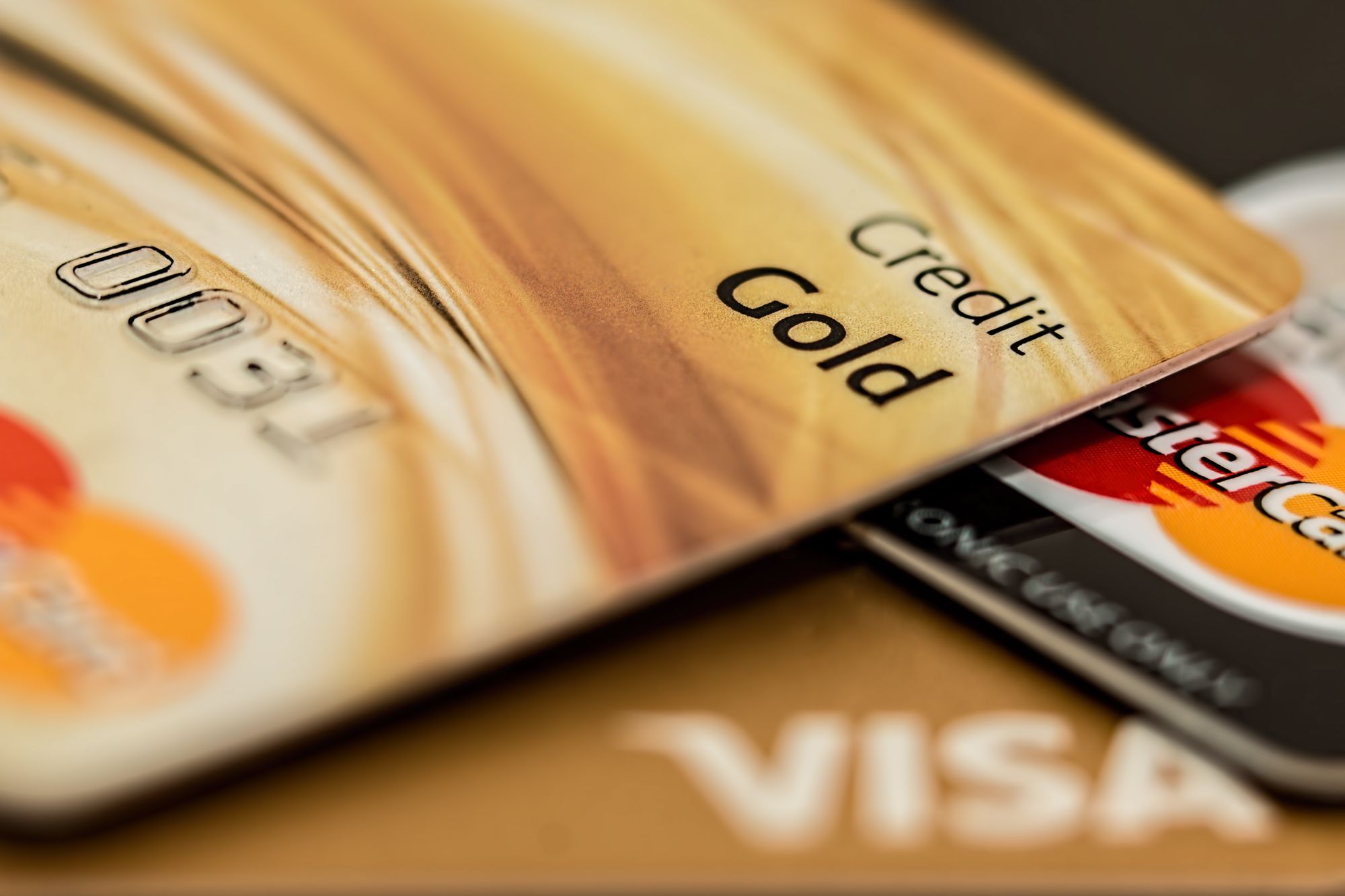 Gumroad
A small shopping cart software installable on any website. Has automated delivery feature for virtual goods. Smooth check out interface for high conversion rates. Includes pay-what-you want pricing. Free to use, and charges 5% per transaction.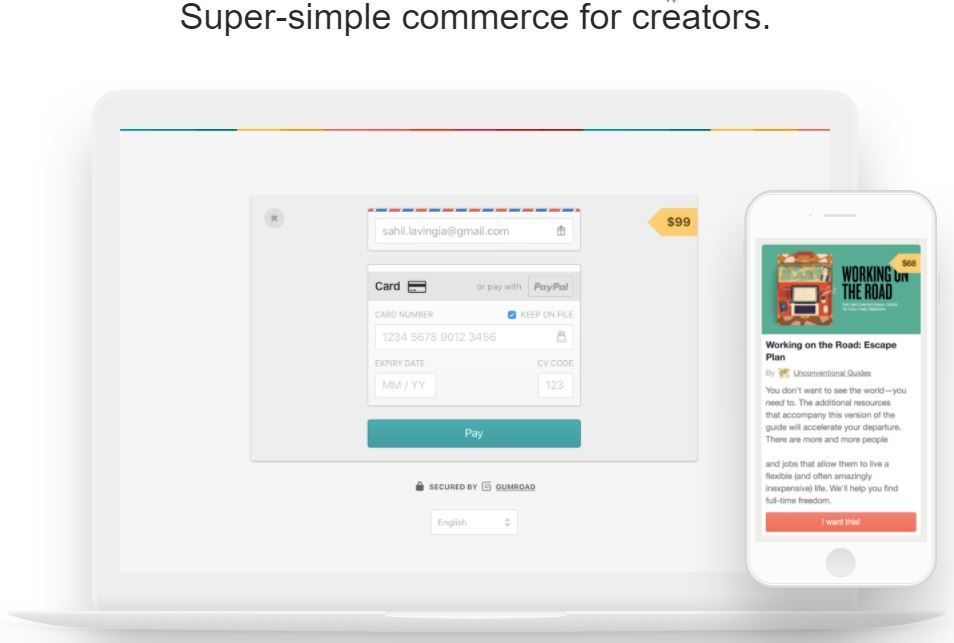 Gumroad also offers a market for various users to sell products and services. Creators of all types use Gumroad to sell their merchandise, and it is also used by developers to sell software.
Gumoard is a built plug-and-play product that allows payment processing, marketing and communication tools, file hosting, and delivery. Gumroad takes care of all the logistics involved in E-commerce so the creator can focus on creating the product. It also offers a consumption experience to the buyer. if you like the Gumroad features here is an affordable Gumroad alternative.
Gumoard is a built plug-and-play product that allows payment processing, marketing and communication tools, file hosting, and delivery. Gumroad takes care of all the logistics involved in E-commerce so the creator can focus on creating the product. It also offers a consumption experience to the buyer. if you like the Gumroad features here is an affordable gumroad alternative.
Square
Make your own customized e-commerce store through Square. It offers a dedicated payments app that allows third-party web platforms for specific payment channels. It charges only $0.30 + 2.9% per transaction. ‌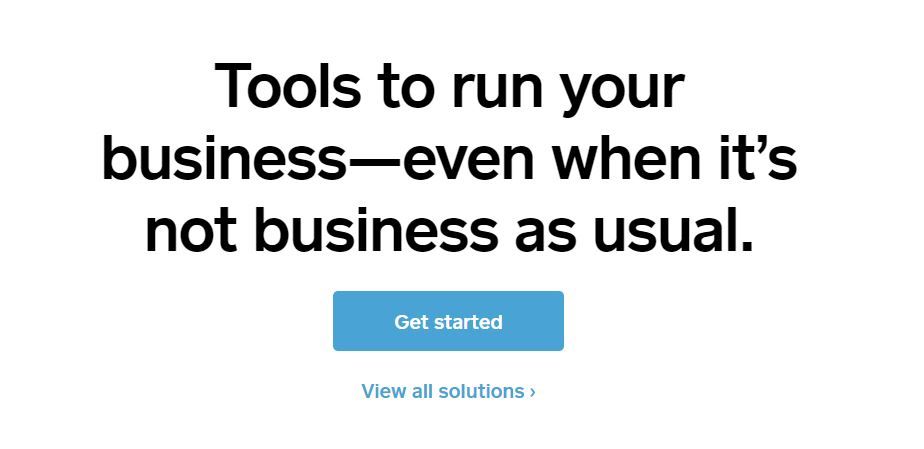 You can use Square to accept debit and credit card payments in a safe and secure manner on your existing website. Square allows integrations with popular industry software like WooCommerce, Wix, Magento etc. You can use Square to integrate your online inventory with customer data across channels. ‌
Square offers complete sales reporting on one platform. It allows you to view real time sales based reconciling data across payment systems. It also compiles unified customer data for you.
Shopify
The most popular ecommerce builder with a an easy to use interface. Can be integrated with other stores and websites. Boasts an inventory management platform. Many payment processing channels under one roof. Starts at $29 per month and charges a transaction fee.

Shopify offers retail point of sale systems to online retailers. It provides a suite of services including payment, customer engagement tools and shipping. It is specifically tailored for small merchants who wish to run online stores.
Shopify also published a mobile app that allows users to shop from all online retail merchants that use Shopify. It also offers seamless integration with various marketing tools like MailChimp, Snapchat. You can easily create a Shopify blog or an ecommerce website. It also has partnerships with B2B wholesale ecommerce platforms like Handshake (Shopify recently acquired Handshake). ‌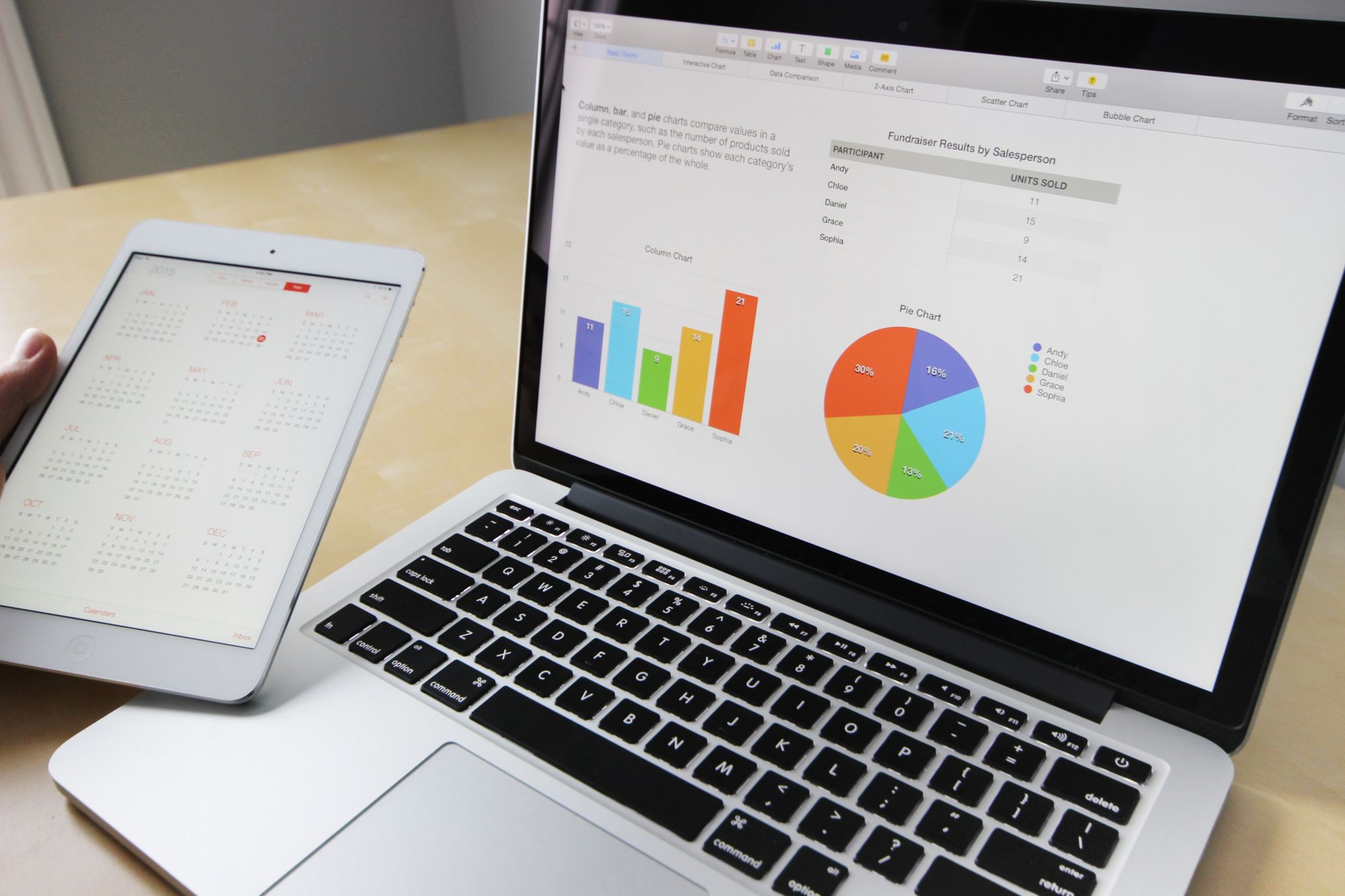 MailChimp
All in one marketing platform for small businesses. Mailchimp is a marketing automation platform and email marketing service. It lets you customize your email marketing strategy. ‌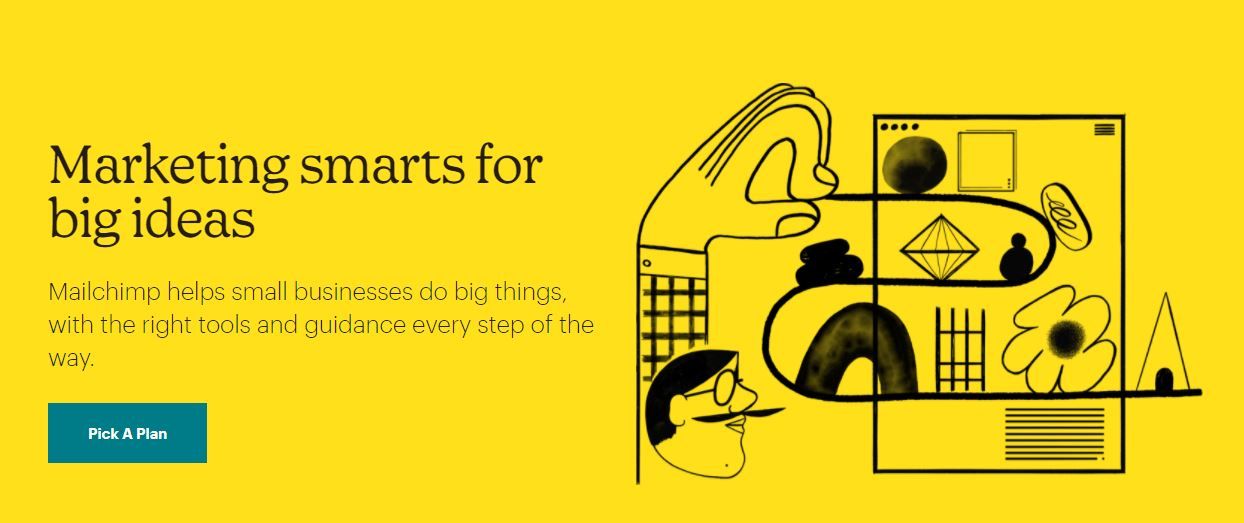 You can use Mailchimp to turn audience insights into personalized marketing campaign. Mailchimp uses AI to understand your audience and send them personalized emails. It lets you analyse demographics and produce relevant content.
Integrate with WordPress, Zapier, Slack, Canva, Shopify etc. Checklist style email builder for bulk email campaigns. You can use Mailchimp to analyse the reactions to emails, ads. It offers professional tools to build emails. It offers a free basic model and three other paid subscription models with additional tools.
Campaign Monitor
A fully customizable email builder with drag and drop features. Includes template management for designers. Includes an insights analytics suite and engagement. Campaign Monitor offers template management for teams. Allows email designers to lock sections of templates to keep your branding intact.

Campaign Monitor offers mobile optimization for email designing. It allows you to run email campaigns that get you optimum engagements. It allows urgency using countdown timers and email scheduling.
Starting at $9 per month, Campaign monitor offers all core email marketing features, with insights analytics suite. At $29 per month users can get unlimited inbox previews, time zone sending and spam testing.
AWeber
A simple email marketing platform that allows you to build emails with customized branding and sync landing pages. Aweber allows you to send auto newsletters, broadcast your latest posts.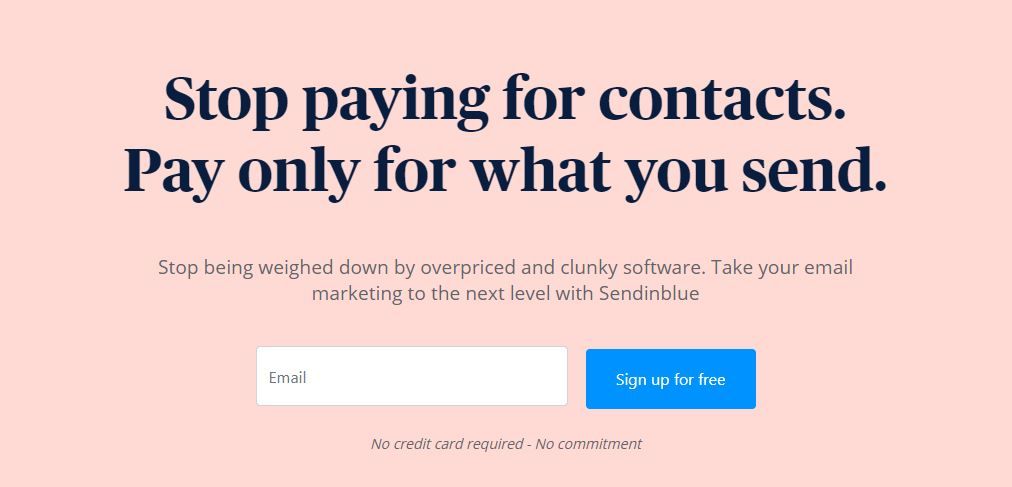 You can use Aweber to create automates email marketing campaigns that give you time back and optimized email marketing efforts through personalization. Aweber offers free template library to build the best custom emails. It offers tools for automated tagging, and prebuilt analytics reporting.
Aweber is free for basic email marketing for 500 subscribers and $16.15 per month for pro features. It also offers solutions for high volume marketing for small and medium businesses. Aweber is scalable and adapts to the growth of a business.
If you're looking for an easy-to-use and intuitive social media management tool, SocialBee is for you. It allows you to add, organize, and share content across several social channels, including Facebook, Twitter, LinkedIn, Pinterest, Instagram, and even Google My Business. With handy Instagram automation, you can reach your social media goals way quicker.

You'll not only be able to diversify your content mix thanks to the Content Categories, but also recycle evergreen content easier than ever due to the Scheduling Features. Worth mentioning is also the RSS Feeds Feature and the Integrations for shortening and tracking links.

The pricing starts at $19 per month. This gives you unlimited scheduling and editing options with the main benefit of saving at least 8 hours per week.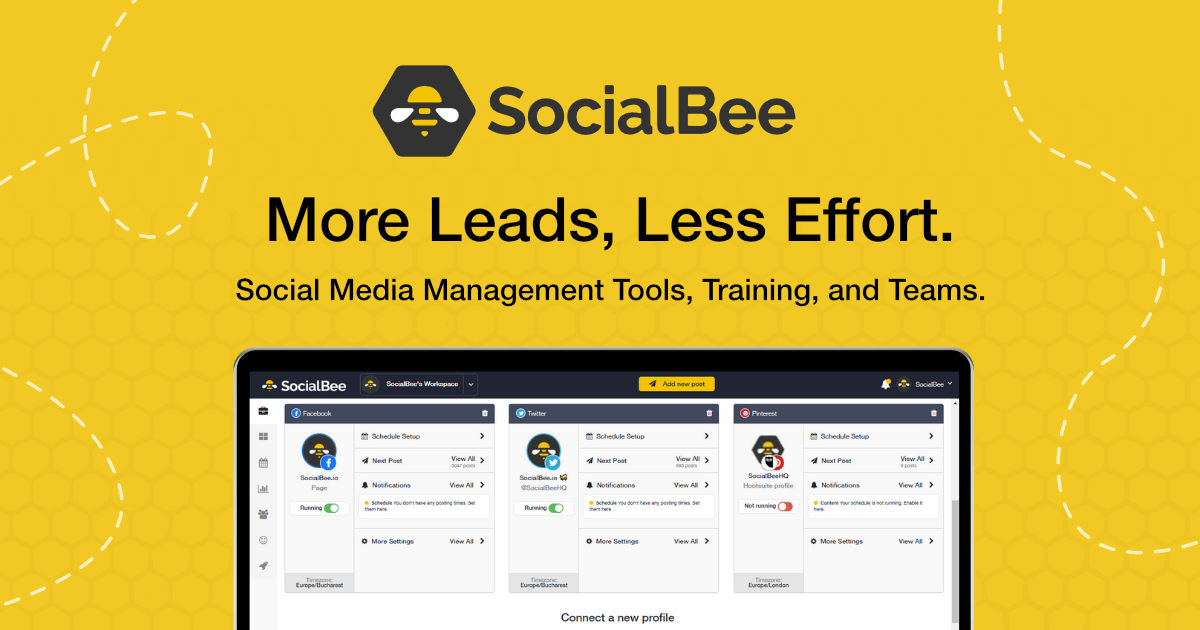 Buffer
A complete social media posting hub, supports Instagram, Twitter, Pinterest, LinkedIn, and many more. You can plan and publish your content throughout social media handles through a dashboard. Buffer allows you to build customized branding on Instagram and plan your feed on Instagram .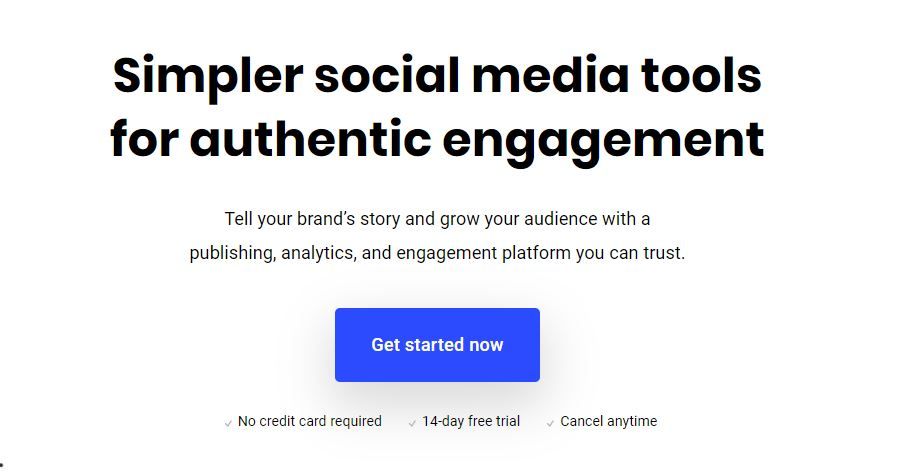 It offers automated engaging posting, with in depth analytics and security. You can use direct scheduling, first comment additions and a shopping grid from your social media handles. It also gives you updates and reminders about engaging posts.
Starting at $15 per month, for 8 social accounts. This allows direct scheduling for posts, tailored posts for each social network, a calendar video, custom video thumbnails, management for drafting posts and much more.
HootSuite
Social media scheduling tool with automated posting, with interactive planner to review and edit content. HootSuite allows you to light up your social media handles and discover when to unite your social media campaigns.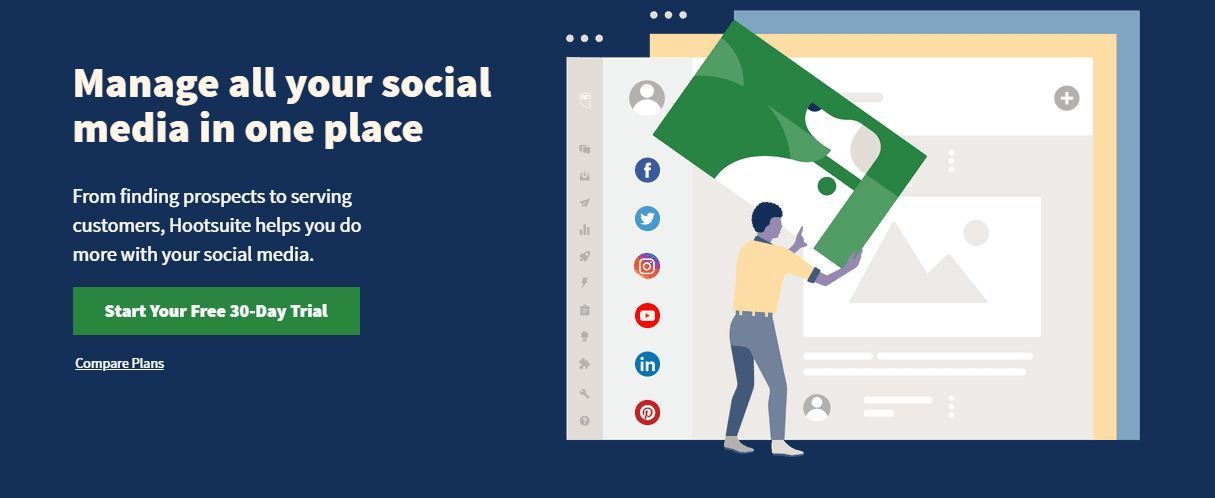 Scalable and flexible, offers integration to over 250 apps. Hootsuite allows you to make better connections with your customers through conversation flow throughout public channels. It allows you to plan all your posts throughout handles on a collaborative calendar.
Starting at $29 per month for professionals. Hootsuite keeps your social media presence through automatic post scheduling and fills gaps in your calendar with buffer posts. It allows you to monitor activity across social networks and improve response quality with shared library for social content.
SproutSocial
A unique platform for robust and cohesive social media marketing solutions. Supports scalability and regular performance analysis. It boasts itself of uncovering upcoming audience-specific trends and personalized strategies. Comes with tasking and social CRM tools and paid promotions for Facebook. ‌

It starts at $99 per month.  It includes 5 social profiles, an all in one social inbox. It schedules plans and drafts posts customized to your liking. It also allows you to review social media management. It also includes trend analysis for $149 per month.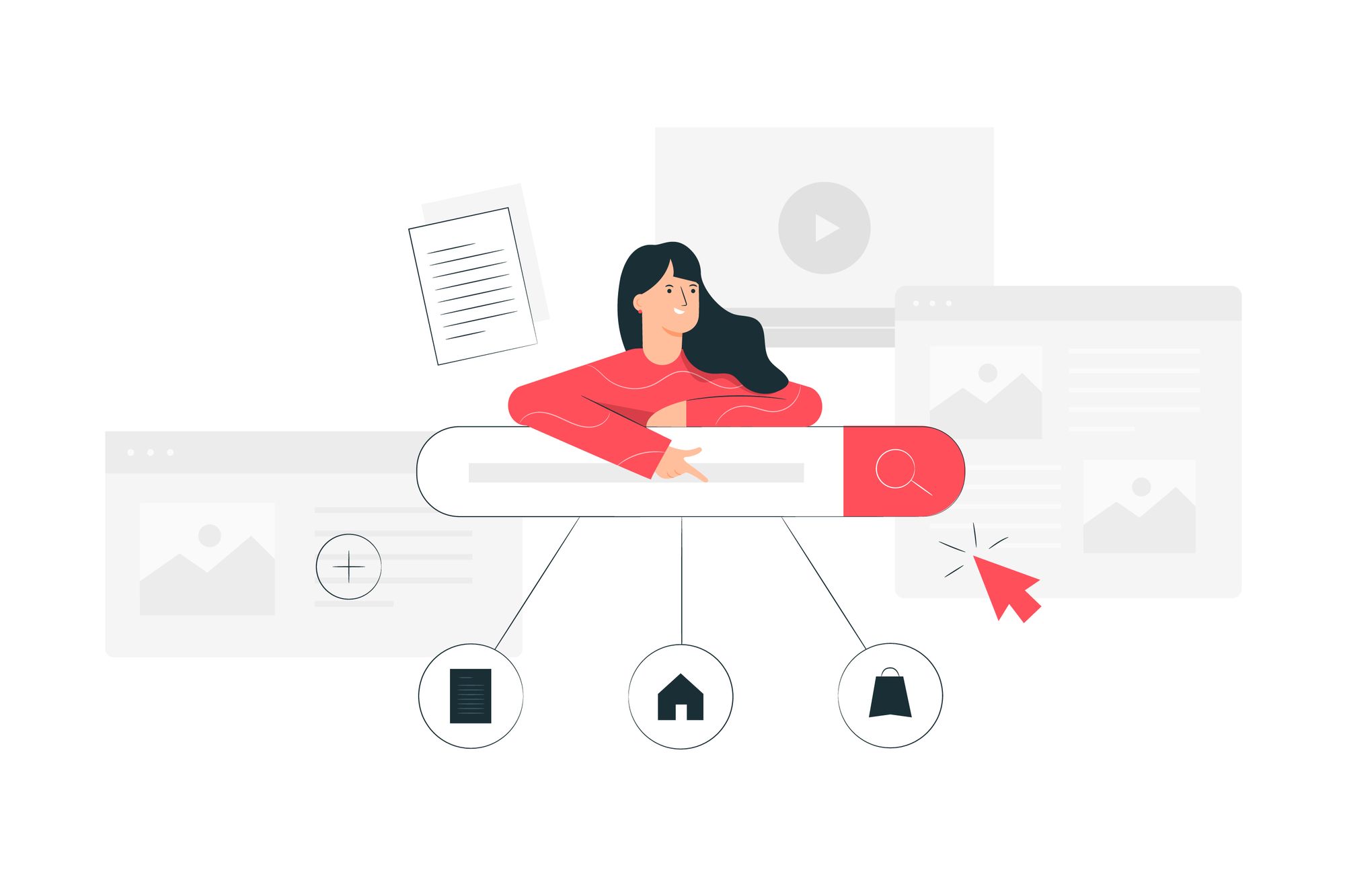 Moz
An all in one SEO tool set for SMEs that does everything from audits to backlinking. Offers you powerful tools to drive qualified traffic to your website and run high impact SEO campaigns. Has the most powerful link indexing software in the business. Does rank tracking across 170+ search engines.

Moz Pro starts at $50 per month. It offers strategically target keywords with accurate keyword volume and difficulty metrics. It allows you to save keyword lists that you can track and update. Moz Pro also offers an array of free tools.
SEMrush
A complete marketing tool kit and guide. Offers a personalized workflow for small businesses and professionals. Helps you gather hidden keywords, ideas for organic traffic. Tracks daily rankings, does the technical SEO audit and automated SEO reporting. Allows you to analyze competitor strategy efficiently.

Starts at $99.95 a month for SEO, PPC and SMM projects with 40+ advanced tools. This is for freelancers, start-ups and in-house marketers. It allows users to track competitor rankings, social media, and traffic sources. It also offers many scalable models for growing marketing agencies. ‌
A startup's most pressing problem is often the first stages of its branding. Logo creation takes lots of time and resources. When done right, logos can tell stories and dictate what the company offers, its values, goals, and missions. But not all companies have the budget for expensive in-house designers. Thankfully, platforms like BrandCrowd offer logo design for newbies. You can play with hundreds of templates or customize the features until you find the right fit.
BrandCrowd also offers customized logo designs. In its partner website, Designcrowd, clients can create a crowdsourcing project where artists offer competitive designs. Both services are relatively cheaper than hiring a graphic artist. Yet the end results are just as good.

Google Search Console
Offers a variety of Search Console tools to improve your performance on the Google search. Regular reports to help you measure your performance, traffic, and fix issues. Uses an alert-based mechanism for reporting issues. All the tools are free with a usage limit.

You can use Search Console to optimize your content with search analytics. It allows users to analyze site impressions, clicks and position on Google search. Submit sitemaps and URLs for crawling on the Google Search Console to get your content on Google. It lets your review you index coverage, and that Google has an updated version of your website.
Appointy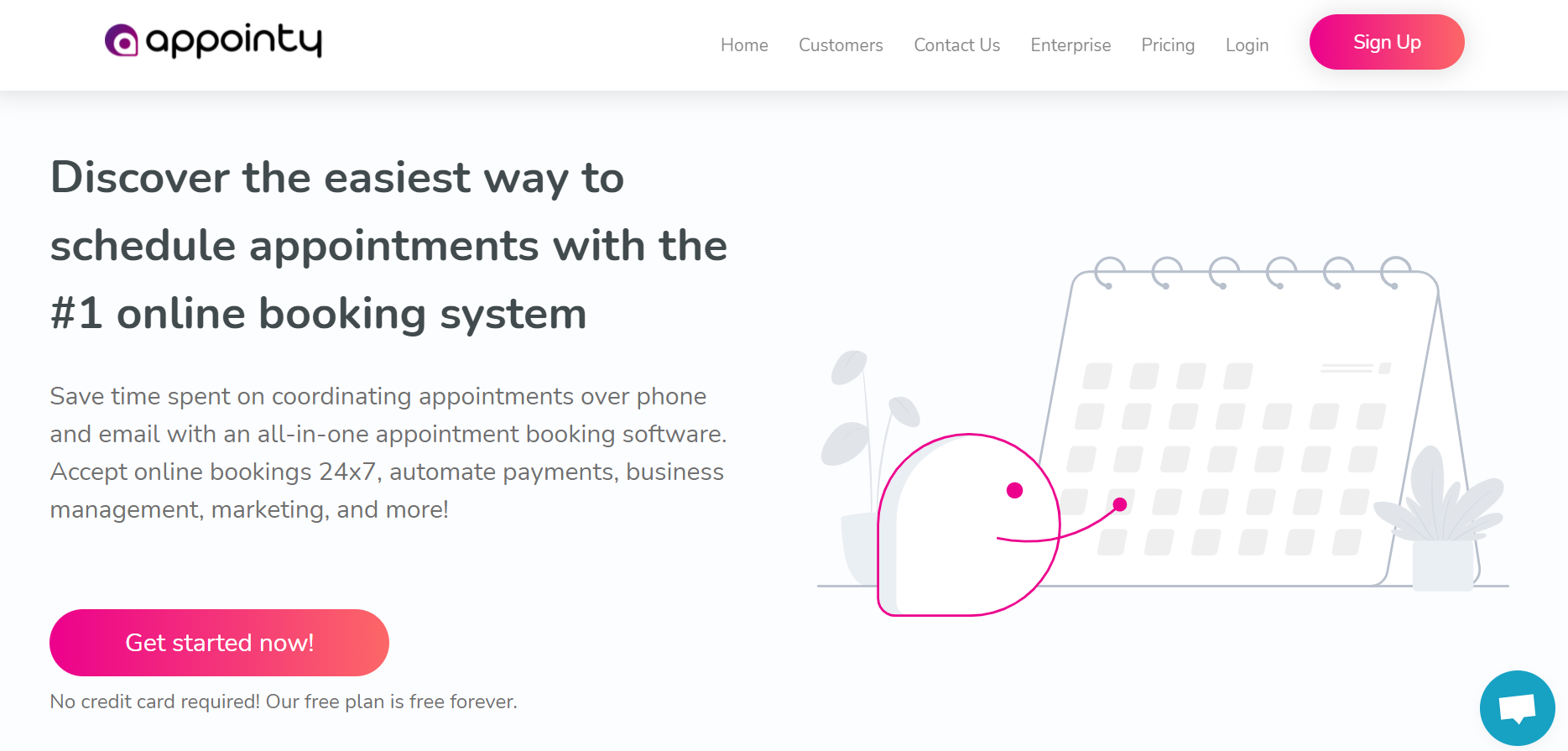 Appointy is an appointment scheduling software that helps you schedule online bookings & meetings 24*7 and automates your repeating admin work. With a freemium plan, it has all the features to help you attract new customers, retain them, and manage your business and team schedule hassle-free.

Appointy can help you accept bookings from multiple channels. You can add a 'Book Now' button to your Instagram and Facebook Business profiles and to your Google My Business listing. Appointy allows two-way sync with your personal and professional calendars like Google Calendar, Outlook and iCal. You can easily accept online payments with popular and secure gateways like Stripe, Paypal, Square.

It allows you to view your daily schedule with real-time calendar updates, send customized automated reminders & confirmation notifications, increase staff productivity, manage customer data, make data-driven decisions, & more!

factoHR is a cloud-based software that handles organizations' HR and Payroll activities. It also provides solutions regarding Performance management.
One of the Highlight features of the software is its' Performance Management module, which provides dashboards for managers to get a view of performance analysis. Managers can also integrate OKRs with the system to see the progress of tasks. On the achievement of tasks, managers can provide reviews and ratings to encourage employees. In addition, it includes a continuous feedback facility so that managers can direct employees toward their mistakes and weak points.
HR and Payroll activities are also a part of factoHR's platform. It gives access to a centralized database of employees to find necessary data quickly. In addition, the Payroll module is integrated with the attendance and performance management module. So, salaries can be counted on the basis of performance and attendance of employees.
Zonka Feedback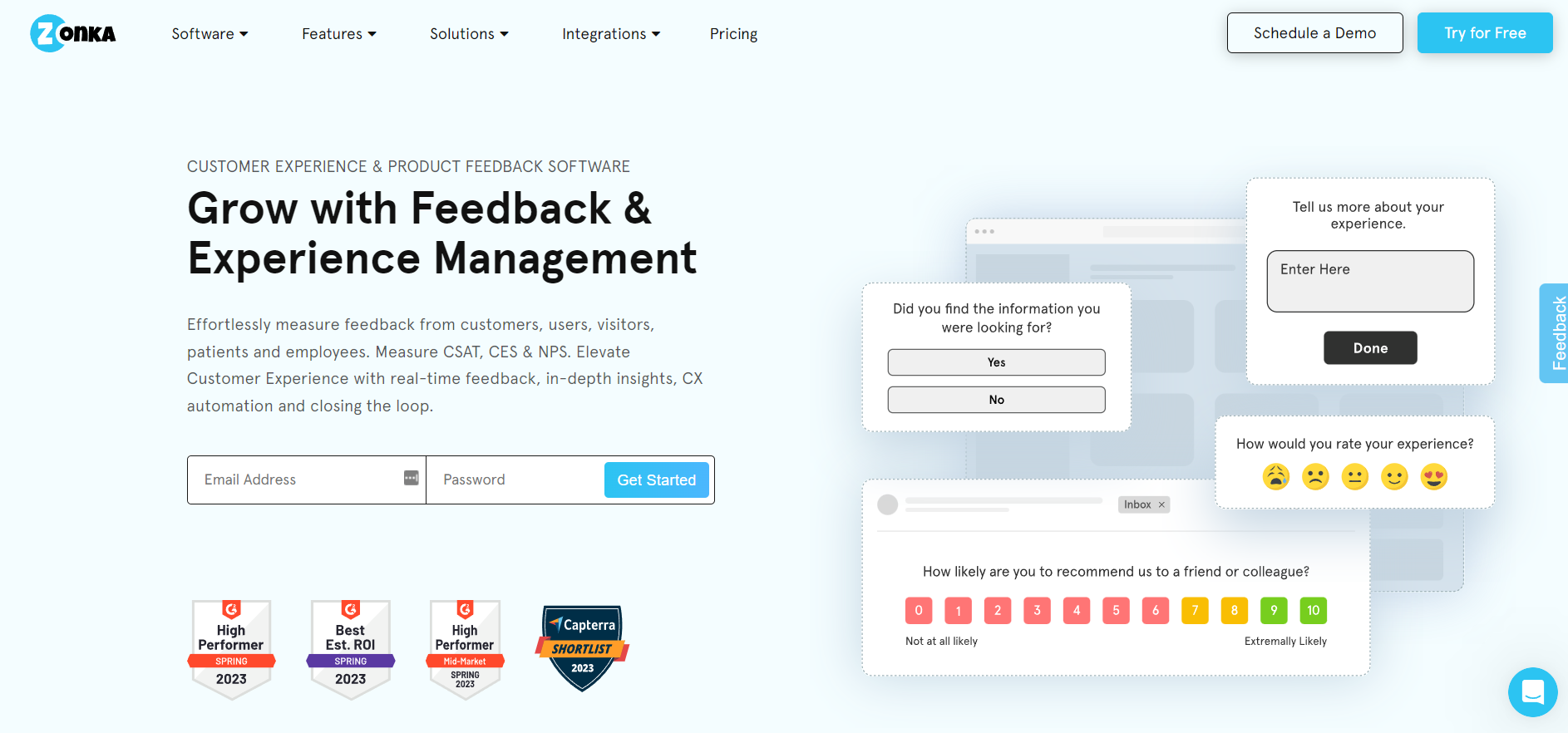 Zonka Feedback is a powerful feedback collection and experience management tool that small business owners can use to capture insights from their audiences in a matter of minutes. The tool comes with an easy-to-use visual survey builder that can be used to create engaging surveys, polls, quizzes, and feedback forms.
As an effective small business tool, Zonka Feedback allows you to measure feedback from customers, users, website visitors, and more. Further, businesses can use it to capture their customer experience, product experience, and employee feedback, and even capture leads effortlessly. It comes with 500+ ready-to-use templates and 30+ survey question types to help you capture user feedback.
Zonka Feedback's features include CX automation to automate workflows and do more with customer feedback and boost customer loyalty, customer satisfaction, and retention. A loyal customer base would also help businesses enhance their revenue.
The tool also seamlessly integrates with popular CRMs like Salesforce, and Pipedrive, etc., helpdesks like Intercom, and Freshdesk. etc., collaboration & communication tools like Front, Slack, etc., and much more.