Your YouTube channel is just like a mini-website for your brand and if you are an independent creator, YouTube can be the place where you can create the perfect influencer model for your talent.
Creating a YouTube Channel for your talent or your business is just as easy as creating an Instagram account. But, it takes extensive and wise strategies to roll out the perfect content for video. This includes different factors, among a few include:
SEO practices
Influential and Scripted Content
Engaging Thumbnail
Influencer Associations
When it comes to social media marketing strategies for B2B brands, YouTube marketing is being used as a dual strategy, due to its vast distribution in every niche possible and its potential reach, as almost one billion hours are being watched in a single day on YouTube.
The social platform has users who show interest in every type of video be it the ones who love learning to cook a scrambled egg with Gordan Ramsay's recipes or the one's scouting for videos on how-to-step up the mic on PC. There are many brands who've started to boost their businesses by using the right YouTube marketing strategies.
These strategies work like a miracle because of YouTube's reach and its addictive recommendation system. To know what is your top performing video, your audience and any changes in the number of subscribers consider using YouTube dashboard. According to a YouTube Statistical Survey, there are about 2 billion active users (1/3rd of users on the Internet) on the platform, who use it for educational and entertainment purposes. YouTube is one of the second most used social networking after Facebook, where videos are the prime mode of communication.
What are some types of videos on YouTube?
YouTube is the house of successful video marketing strategies, it is believed that the only beneficial way of increasing brand image is through blogs, PR, and other marketing tactics. However, in a survey by Animoto, over 63% of businesses claim that video gets the best return on investment (ROI) on social media and 93% of marketers said that uploading video content is what helped them gain new customers. Over 45% of consumers said that videos are their favorite content from brands. EntrepreneurNut also reported on an interesting YouTube stat from a survey carried out in the USA in 2021, which found that 81% of US-based internet users access YouTube on a regular basis. Some of the types of videos on YouTube are: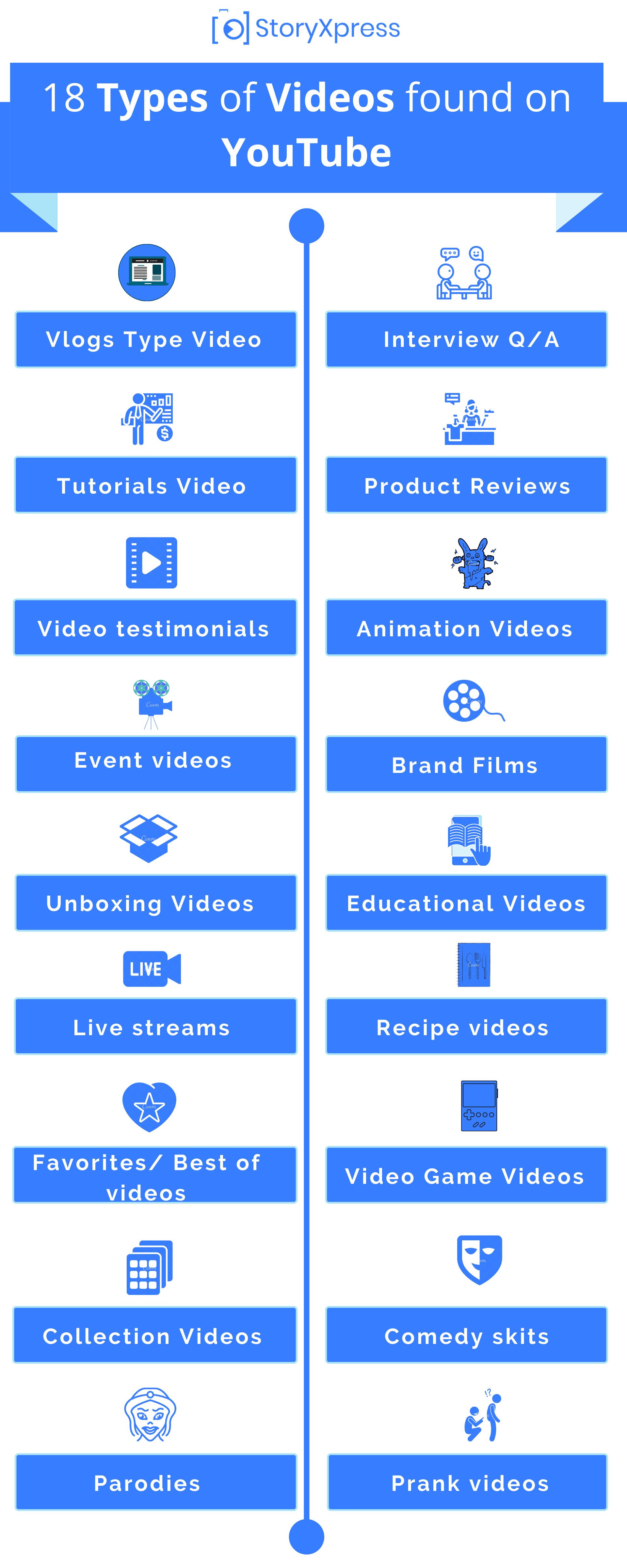 Vlogs
Vlogs are a great way of telling real-time experiences. They show how your business functions and create a completely new and unique brand image for your target audience. Vlogs are not produced in a complete video direction environment but are generally recorded in a way, to give out a more authentic approach to your brand, rather than a sophisticated professional image, as they are not scripted and are on a budget. Vlogs, are also a cheap and easy set of video production and edited at a fast pace, as they are not scripted or rehearsed.
Interview Q/A videos
Interview Q&A videos are one of the most used video content used by entrepreneurs, businesses, and independent creators. These videos allow your brand to connect with an inspiring person in the same field. The interview Q&A videos gain a lot of engagement because of the 1-on-1 session with an industry expert. These videos also help gain new users on your platform, moreover, help retain existing users and increase engagement on your channel.
Tutorials
Tutorials are one of the most searched terms on YouTube, for almost every niche. The millennial audience works on tutorials- be it a makeup tutorial or a tutorial for JavaScript and C++. Free tutorials are a way to keep the user retained and create a better brand image. When working on them using smart strategies, helps generate revenue and increases the sales graph to a good level.
Product Reviews
Product Reviews is one of the most used video categories on YouTube by independent creators. These videos work well for cross-marketing strategy, as when creators provide a fair review of any latest product, users tend to search the term because of the brand image of the product (let's be honest, Gen-Z functions on reviews). Every good review leads to a potential rise in the sales of the product. Moreover, the post-purchase experience of the consumer helps increase the brand image of the creator.
Video Testimonials
Video Testimonials tend to create a good impression if you are a B2C or a B2B company. Video testimonials are a more interesting and genuine form of review, as it is not the text that speaks but it consists of a recorded video review by the existing customer.
(Pssst.... If you are a digital product, you can also use StoryXpress' Webcam Screen Recording Extension to get user feedbacks.)
Animation Videos
Animation Videos are one of the most fun kind of video content to play around for your YouTube Channel. These videos work like a charm for your small businesses with technical products, as they help break down complex terms and tutorials into a simpler and easy medium that is understandable to every kind of user on the Channel.
Event videos
Event videos are all together, short and polished video clips from events related to your niche, or even the events you organize, be it virtual events or physical ones. They not only tell about your brand but also help promote your brand. Event videos can include a part of the event, a part of behind-the-scenes videos, and a promotional part as well.
Event videos are particularly in demand especially when it includes BTS of glitzy corporate events or glamorous fashion shows. Social media channels like Instagram and Snapchat, help create a buzz of these events, with their short 15-second video clip features.
These platforms help create a path for impactful marketing techniques, that target the emotive side of users: i.e. the fear of missing out a.k.a. FOMO phenomenon.
Brand Films
Brand Films are not always a bad idea, even though the average attention span of a user is quite short. But a strategically produced video, can help grab the user's attention, and take them through your brand's journey. These videos, help the user dive deep into your brand's visions and goals and help create a strong brand image.
Unboxing Videos
Unboxing Videos are what millennials rely on when it comes to buying the latest product. These videos record the initial expressions of a creator while unboxing a new product, it lets the users experience the product vicariously. The sole purpose of creating unboxing videos is to indirectly sell a product through first-look reviews.
Educational Videos
Educational Videos tend to be interesting, clear, and thought-provoking as they directly influence audiences in the age demographic of 6-20 years(school and college students). These videos are one of the most popular video categories on YouTube and receive a much higher amount of traffic on their videos, which is at times at a recurring rate.
Live Streams
Live Streams are one of the most important types of YouTube content you can use if you are a business, a creator, a gamer, or even a chef. Live streams help engage new users on your platforms and also help in the retention of current users/subscribers. A study mentioned by 99 firms has shown that live streams, tend to generate 10x more engagement than that by videos.

Neil Patel states that live video broadcasting can receive 600% more engagement than regular posts and videos.

Recipe videos
Recipe videos are the types of videos, created by anyone who knows and loves cooking, be it a chef, a homemaker, a food blogger/vlogger, and even a cooking amateur. These videos are one of the different types of YouTube videos, as each, tries to gain audience engagement with the same recipes, portrayed in their unique cooking style.
Some videos have detailed step-by-step recipes with a voice-over, whilst some are a fast-forward version. Fast-forward cooking videos have a comparatively higher engagement rate than detailed recipe videos.
Favorites/Best of videos
Favorites/Best of videos records the personal experiences of a YouTuber, with a product or service or any real-time experience. These videos are more specifically described as recommendations with honest and real reviews.
People look up to YouTube creators for recommendations on "where to eat at a specific place" or "where to vacation in a specific season". These videos are the most popular types of YouTube videos.
Video Game Videos
Video Game Videos generally consist of gameplay, video game reviews, tips and tricks, reviews on gaming products, etc. These videos often receive high engagement and views and have been popular ever since.
They gain a lot of engagement on other social media platforms as well like Facebook, ever since the beginning of live game-play streaming.
Collection Videos
Collection Videos are more of a personalized type of YouTube videos, created by influencers on YouTube. These videos are typically made, by creators to show their viewers, a certain product, they've collected over time. These mostly include makeup product collections, gadgets, home décor, and apparel. They generally allow the users to know more about the creator they are following. These videos indirectly promote a brand, through honest product reviews.
Comedy skits
Comedy skits are the best way to go viral. Many famous YouTube Creators have gone through the same path, to become famous. Comedy skit content is the most understandable and relatable content on the internet, and they tend to receive more views than other videos on the internet.
Nowadays, comedy skits are generally scripted, but there are a few that are more in a sit-down Vlog style.
Parodies
Parodies are funny/comedy recreations of famous music videos or movie scenes. These videos need a lot of practice, the script should be well-written and rehearsed because at times parodies fail to connect with the audience.
This can lead to less engagement and likes on your channel. Though, they are the most popular types of YouTube Videos
Prank videos
Prank videos are funny social experiments, done by YouTube creators on their family, friends, or strangers. These videos are generally shot from an unsuspected distance, to record the real reactions of people. At times, videos like these can get quite uncomfortable for people. Many creators earn millions of subscribers through the prank content they create and these types of YouTube videos get the most views.
Meme based videos
Meme-based videos are inspired by trends/latest news in specific niches. This type of content resonates well with an audience that's highly engaged in a specific niche, eg. gaming. Meme-based videos can be tailored to approach any niche, they generate a lot of engagement and are also fertile ground for user-generated content.
Music videos
Music videos are among the most popular categories of YouTube videos, This is mostly favored by established and independent artists, music videos tend to rack up the most no views on the platform, this is due to the fact that a sizeable chunk of users treats YouTube as a music discovery platform.
Music videos also inspire other types of content on the platform including commentaries, parodies, and reaction videos.