The traditional mode of marketing, including print media, TV commercials, etc, has long experimented with finding the right sequence of creatives to maximize conversions and return on investment.
Taking a leaf out of the traditional marketing book, Facebook conducted its own study to understand which creative sequences were the most effective at meeting predetermined goals, including getting users to visit a web page, and/or buying an item from the page. While the results were largely in sync with the trends we have seen lately, video again emerged as the game changer, consistently helping advertisers get the most return per dollar spent.
Finding The Right Combinations
Source: Facebook
Over an 8-day period in November 2014, Facebook helped an advertiser run a test that compared 3 sequencing strategies held over two 4-day phases across both desktop and mobile News Feed in the US. Each group was targeted with a single ad, either video or static (link ad), during each phase:
Video ad followed by static ad (photo is the same as the thumbnail of the video)
Static ad followed by video ad (same ads as previous group but different order)
Sequenced series of 2 static ads (first photo is the same as other groups)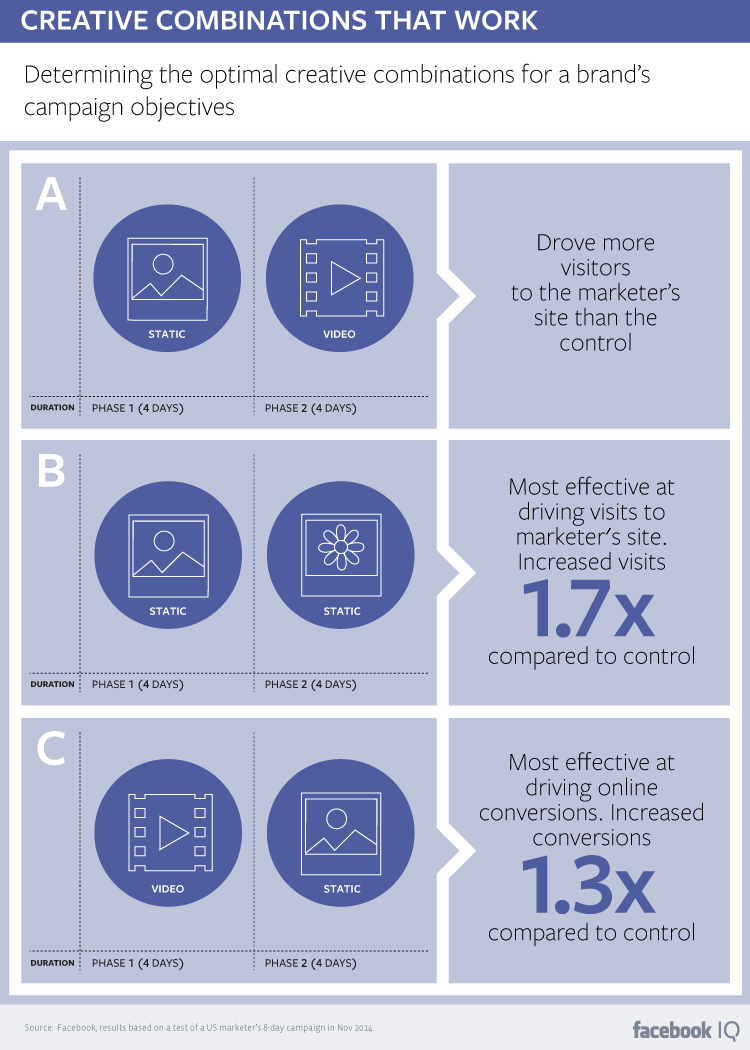 The control group for each metric was sourced from additional people who had visited the site and engaged in a transaction without seeing the advertisement. Predictably, all combinations drove more users to the test website, but the 2 photo combination was the most effective at driving traffic.
The other metric was driving online transactions. In this case, video flexed its engagement muscles and drove up sales by slightly more than 30%.
What Marketers Should Always Keep In Mind
Hoping for a one-size-fits-all strategy or conclusion is insanity. At best, what we can conclude from this study is that photos are good at redirecting traffic to your website in most cases, and similarly, video will be your tool of choice to boost online sales in general. However, it is always important to realize that depending on your use case, target audience and the product you are marketing, you may end up being an outlier to the norm.
Which is why, our advice to marketers is simple:
Video is the key to driving online sales. However, full-scale implementation should always be preceded by right A|B testing and a small-scale pilot roll-out to assess the possible avenues where things can go wrong.
Happy Marketing!