It is important to make your content as compelling and informative as possible to catch the audience's attention.
Video guides, product unpacking, descriptions, DIY tutorials, and other eye-catching reels will come in handy for propelling your business on the Internet.
Today's video marketing is intended to be truly entertaining, and 100% semantic content helps websites, blogs, and forums rank higher in search engines.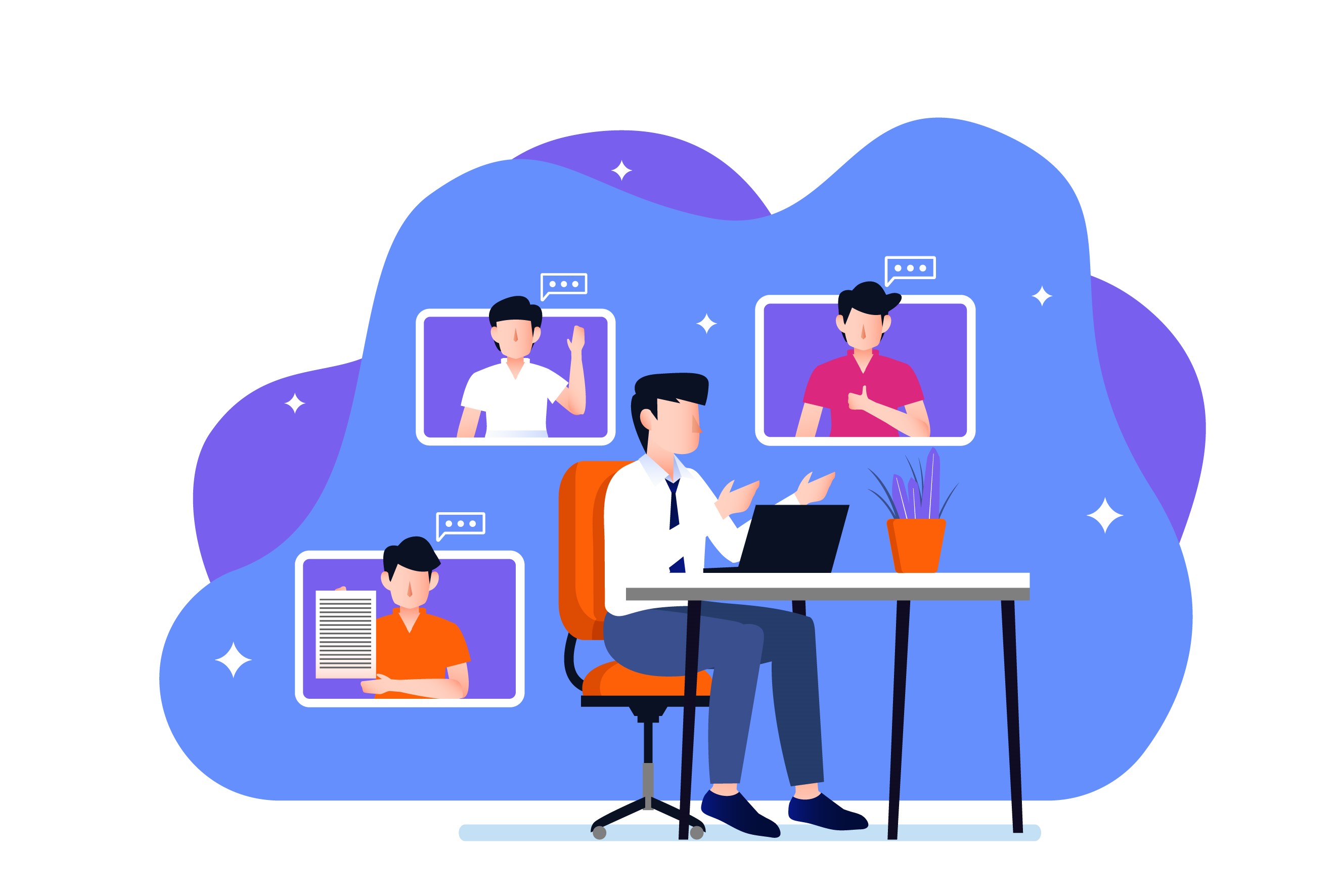 Create Your First Video Now
You can do it!
Get Started
According to a Smallbiztrends survey, clips and footage materials can increase conversions by 80%. As a result, video-driven content marketing strategies became a hot-topic trend in 2019. The latest benchmarks for 2021, according to HubSpot research (in the context of videos), are:
85% are focused on in-house video production for marketing purposes.
High Tech market players and business representatives of the manufacturing market niche create the freshest video content.
The libraries of modern entrepreneurs contain 293 videos on average.
Source: HubSpot
But it is not enough to stage clips and footage to increase conversions, sales or improve online presence through high SERPs ranking. SEO optimization of videos is required to gain more site traffic and new leads.
SEO-friendly content is not only about texts on your landing page, blog articles, and product descriptions. Optimizing video content also matters significantly for your website position and its competitiveness in the market.
As stated in the DigitalConnect Mag, a well-thought video marketing strategy makes your business a win-win. With the help of matchable content, your target audience will watch, you can be sure that your click-through rates will become higher while your brand awareness will be increased. It is necessary to prioritize search engine algorithms when it comes to your content strategy to turn out your clips and reels into SEO-friendly video that generates more traffic.
Search Engine Journal also proves the statement that Google ranks websites higher with optimized video content. Speaking about commercial markets, videos are not just a prominent tool for SEO but a way to represent your products and services in detail and force customer engagement significantly. According to the Google Search Central Blog, the most common uses of videos (in general) are:
Product pages – Unpacking, video descriptions, reviews in reels, promos, and other clips that can inspire shoppers to visit your store or order your services on the site. For example, the request "the best SaaS for time tracking" includes a website that offers this software. The video is available on the product page.
Articles & blog posts — A way to complement expert texts, reviews, step-by-step guides with the help of videos. Viewers can share this content with other users, so organic traffic is ramped up. For example, if the searcher enters "Tutorial on how to install WordPress plugin?", Google will offer the top websites where two of them are blogs with videos on the relevant topic.

Live streams — These videos can be devoted to your product launch, presentation, or another important event for your online business. Additionally, modern entrepreneurs add live streaming videos with interviews, reviews, or giveaway results. It is recommended to save live-streaming content in a well-supported form and with high resolution to post it on YouTube and other platforms. Use this tip to generate even more organic traffic.
To sum up, commercial markets can benefit from video SEO. First of all, Google puts video-driven pages as a top priority and favors websites with SEO-friendly video content.
According to the article New Resources for Video SEO, the Googlebot considers video content as one of the core factors for site ranking. A well-thought out video SEO strategy also allows present-day entrepreneurs to improve their search ranking indirectly the following way:
To watch a posted video, users spend more time on the website. So the statistics of audience retention is improved by default. The chances to make a website stand higher on the SERPS as a result, increases.
There is a great opportunity to get more backlinks with eye-catching and informative video content. It goes without saying that links that refer back to a site's domain are one of the most important SEO metrics.
Improved user-friendliness also matters. Searchers will enjoy long-reads more if a huge text includes images and video content. Especially, if it comes to tutorials, guides, algorithms, and DIY recommendations.
An efficient video marketing strategy that brings a plethora of advantages for SEO and searches ranking position should start with determining the most relevant content type you will post on the Internet. Here is a table with tips starting from the very beginning of your how-to video SEO journey.
10 Tips to Optimize Video Content for Google Search
According to a DigitalContent Mag survey, the reception of information with the help of video content has been improved by 70%. Besides better illustrative properties, video marketing boosts SEO and makes business websites highly ranked on Google. Here are the most helpful tips to make your clips SEO-friendly. Find out how to rank videos in Google with the help of search engine optimization of your video content.
#1 Explore the Best Hosting Platforms
To up and leave your website server, selecting an alternative hosting platform for video posting is better.
Video marketing strategy is impossible without hosting services to share your video content without harming its quality. Even if any problems with your site server occur, a promo, tutorial, or other clip will be available on the alternative hosting platform.
Here is a list of top-3 online services to take into account for your business video marketing strategy:
YouTube – a hot-topic platform that is perfect for video SEO. Millions of authorized users search for entertaining and explainer clips. Besides having great media outreach, YouTube offers a comprehensive set of SEO-driven tools.
Among them are optimization of video metadata (titles, descriptions, thumbnail), keyword search (analyzing rivals' keywords and video search trends), optimization of watch time, etc.
Another benefit of YouTube is its free-of-charge cloud storage and other customization tools. You can reuse your existing content o generate more organic traffic or create a special channel to post new videos to attract more target viewers.

Dailymotion - is one more video-sharing platform that is becoming more and more popular. The total file storage is unlimited here. But the platform only allows posting videos of 2GB and less.
Clips shared via Dailymotion can last up to one hour (60 minutes). But a benefit of this hosting provider is a small competition. Moreover, according to Dailymotion's latest statistics, business representatives can count on more than 300 million unique users. This way, you can turn more traffic to your website.
StoryXpress — StoryXpress is a premium video hosting platform with free as well as paid plans. First, StoryXpress offers business-driven services like CRM integration, video analytics tools, and video embedding. This hosting platform is perfect for sharing podcasts and other marketing videos. Custom branding options and a free StoryXpress trial are also available.
Choose the most optimal hosting provider for video marketing according to your business goals.
But at the very beginning, you can start with either StoryXpress free plan or YouTube for your video marketing strategy.
#2 Include Video in Sitemaps
According to Google guidelines, video-driven sitemaps help the Google bot understand the content presented in the clip. This way, your video will be recognized by crawlers and boost your SEO. To make your promos, guides, and how-tos perform well in video search, you need to add specific tags to the website's sitemap. To do this, follow the algorithm:
Open the page's URL tag.
Add the tag option of your interest. The main 4 ones are <video:thumbnail> (the URL to the thumbnail image), <video:title> together with <video:description> (for metadata), <video:content_loc> (or <video:player_loc>) to point a specific media or player.
Submit the updated sitemap to Google as usual with the video tags.
Submitting XML sitemaps with video tags is considered an SEO practice that promotes search engines to discover your video content and consider while ranking the website.
#3 Optimize Video Around Page Keyword
According to Wyzowl research, SEO-friendly videos can reinforce keyword strategies. To optimize your video content around the page keywords, you need to include the main key phrases to the transcript of an interview , for example, that is usually placed under the clip and in the metadata. It is useful for proper Google indexation of a page with video content, and as a result, receives more organic traffic.
First, video SEO requires keyword research that should be undertaken with the help of a reliable tool. Determine high-search key phrases that will come in handy for maximizing CTR via videos.
For example, Seranking offers a wide range of SEO features, including comprehensive keyword suggestions, selecting best-performing keywords according to competitor's historical data, and handling further on-page optimization processes. In terms of keyword SEO analysis, you can analyze any parameters that affect the efficiency of your SEO strategy (difficulty keyword score, search volume, etc.).

Additionally, it is possible to determine the most optimal keywords for your niche and analyze competitors with the same video content and paid advertising. Do not neglect keyword research because your video SEO depends on the transcript and title + description optimization.
Here is an example of the keyword-rich transcription:
And this is SEO-friendly video metadata exemplified:
#4 Improve the On-Page SEO of a Website Page with a Video
Regarding the previous tip (keyword optimization), you need to check all the video parameters to boost on-page search engine optimization. For this purpose, follow this checklist:
Write clear, unique, and concise metadata and page description;
Use a descriptive human-friendly keyword in the URL;
Use the H1 tag only (H2 tags are suitable for displaying pertinent information on the page);
Add ALT-text for all the images.
Here is an example of SEO-optimized HTML elements for your video SEO:
Page Title: "10 Best WordPress Plugins – Review of the Top Ones in 2021"
Page Url: /best-wordpress-plugins/
H1 & H2 Tags: 10 Best WordPress Plugins – Review of the Top Ones in 2021
On-page keyword density: "WordPress plugin" and "2021" appear multiple times.
Transcript: Review of the best WordPress plugins in 2021. The detailed review of the most popular ones with their PROS and CONS….
Both Google and YouTube search bots will pay attention to SEO-friendly HTML elements. This way, your on-page search engine optimization will be improved with the help of added video content.
Check your on-page performance with a special-purpose tool. A comprehensive analysis undertaken by on-page checker tools will show your weak spots in the context of the structured data.
#5 Add Closed Captions for Video SEO
According to a Digital Marketing Institute survey, the availability of corresponding captions improves searchability rates. Additionally, your video can be played in silent mode without any problems (it's about user-friendliness that promotes 100% convenience).
To make your video accessible for a large audience and have an opportunity to increase ROI, add closed captions. They improve your video SEO significantly because search engine visibility rates and viewer engagement become better at the same time.
First, Googlebot will discover your video content in text form and rank the website higher. Secondly, searchers can interact with your clips better (especially hard-to-hear ones). This way, closed captions are essential to make your video user-friendly and SEO-driven.
With timing and a proficient transcript, you will get organic traffic and push your website with video content to the top. It is recommended to avoid auto-generated captions. Customize them with the help of special-purpose tools like Camtasia or Rev.com.
#6 Create a Clickbait Thumbnail Image
Remember that the thumbnail image should correspond to your video. This way, you will increase the dwell time on the website. Here is a list of reasons why a clickbait thumbnail image is important:
Draws attention.
Increases brand awareness.
Customizes your video content.
Depicts the primary object or subject.
The thumbnail image should be clear and branded. For this purpose, use the following hacks:
Use your brand colors, logo, imagery.
Use large letters and easy-to-read text.
Show the primary object/subject/idea.
Use minimum words but dynamic graphics.
Add custom backgrounds.
For example, Hootsuite uses custom thumbnails both for their videos on their YouTube channel and for the preview icons in the library.
The main idea of the Hootsuite thumbnail images is to capture the audience's attention and describe in short the concept (topic) they cover in the videos. One more example of a personal blog on YouTube is Amy Landino's thumbnail images. All of them are designed in the same colors (of her personal brand) and with a catchy message. Try to apply this approach to your video marketing strategy.
#7 Focus on One Video per Page
Do not disperse numerous videos added to a single page. It is better to optimize one clip and improve your SEO this way. Moreover, Google usually indexes only one video per page.
Your task is to complement your catchy on-page content with the same eye-catching and corresponding to the main topic video content. Take a look at the checklist with the most helpful tips in the context of video SEO that harmonizes with search engine optimization strategy for the whole page:
The video should be mobile-friendly. It increases the user-friendliness and engages more viewers.
Use relevant titles and descriptions for both video and the page. It's brilliant when metadata includes similar keywords.
Add exciting video content to generate backlinks. Force people to share your clips and make them even viral. Top-3 directions are humorous, educational, and emotional videos.
Send a personal message to the audience with the help of a video on the page. Search ranking matters, but genuine searchers are more important.
For example, Grammarly offers exceptionally human-driven videos. The company shows how their product can solve numerous issues with writing, grammar, spelling. The personal message for the audience is "simplified routine, easier writing."
#8 Implement a Video Schema Markup
Google considers video schema markup, but there is no clear explanation on how this protocol works. According to the MOZ article, at the present moment, there is no information about the way Googlebot chooses to use schema data for video. Nevertheless, this parameter affects the searchability factor.
Remember that Schema markup should include all the video tags and additional URLs to determine:
URL to the actual video file.
Embed URLs.
The date of the video publication.
Expires terms.
#9 Adapt ​​Video for Rich Snippets
According to Brightedge research, rich snippet SEO depends on a range of key factors:
Correct markup leads to well-structured data and improved UX. The snippets should not be spammy.
Mobile-friendliness improves the user experience and brings more organic traffic.
Google-driven video sub-menu navigation helps to adapt video content for rich snippets.
A high-quality website with a relevant snippet to a search and is well-known for users.
To adapt your video content for rich snippets, it is recommended to develop your brand, get backlinks , and pay attention to the data structure on the site. Here is a list of additional video SEO requirements to take into consideration:
Create how-to guides with videos. Together with visual materials about recipes and DIY, this type of page shows up in SERPs.
Pay attention to the video enhancements on Google. Use Live and Clip badges to adapt your content for rich snippets.
Use JSON format as the alternative way to classify your on-page data. It is also used for the creation of custom markup without coding.
Pass the Rich Result test. Google offers to check the performance of your website page and video separately in the context of the search results.
Use Google Search Console to track the organic performance. This way, you will find all the found warnings that harm your rich snippets' performance.
Let's review the Google Search Console tool for video SEO in detail.
#10 Use Google Search Console to Track Its Organic Performance
Use this tool to monitor and solve issues related to your video content. Find the "Search Type" section in the menu of the Search Console. Select Videos and analyze the report Google provides. It will contain the number of errors, warnings, and valid Schema markup parameters.
It is worth mentioning that you can get this report only if the video snippet code is presented on the website. Take a closer look at identified issues and correct them as soon as possible. For example, this Google Search Console report contains a missing thumbnail URL. The error can be eliminated in a minute by your web developer.
#11 Build Backlinks to the Video Page
Backlinks are still essential in SEO , despite all the updates to the Google algorithm. It stands for a strong signal that searches take into account while generating a SERP.
As such, it's an important part of video SEO optimization. Here is what you need to do:
Submit your video and website address to directories with high DA and PA.
2. Find relevant websites and ask them to post your video page in exchange for a backlink.
3. Guest blog on relevant websites and add the link to the video page in the article or in the author's bio.
4. Connect with influencers and bloggers, who can share your website link for social media followers.
5. Engage the audience in a viral giveaway.
Final Word
Video SEO requires a comprehensive approach. Start with your video marketing strategy if you are interested in high Google rankings and user-friendly video content that catches users' attention. Select the type of clips you will use for this purpose and follow tips from this search engine optimization guideline.