The new StoryXpress #BlueHoney is here, with a set of very cool features. And, we can't keep calm!
StoryXpress's engineering team just wrapped up several core components and the updated extension is live on Chrome Store. Download the extension here.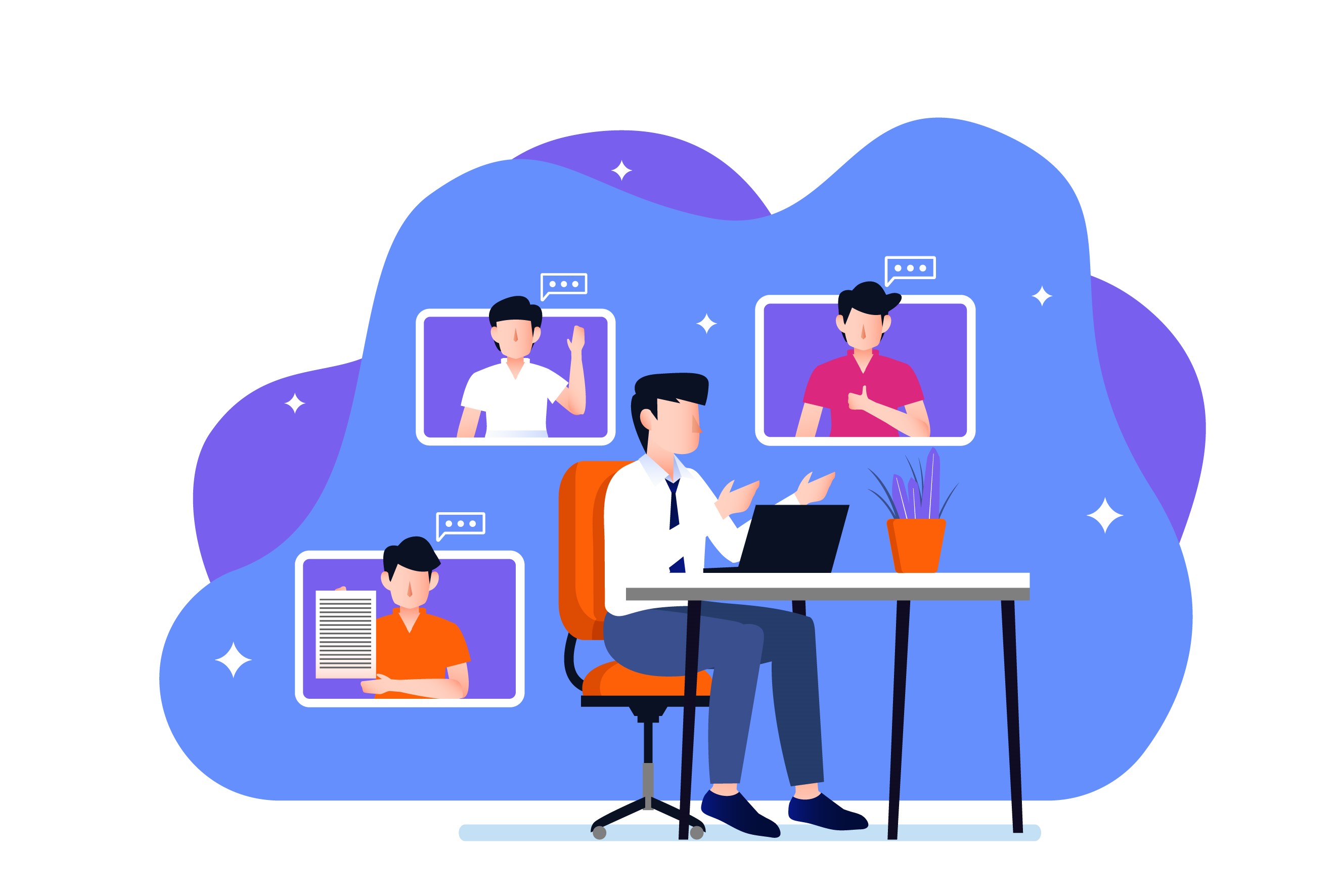 Get StoryXpress Now!
Video Platform for High Performing Teams
Get Started
We know it's been a while since you've heard from the StoryXpress Engineering & Product team. That's not because we've been taking it easy —quite the opposite, actually!
We've been working hard to ship all those features you want and requested us for, along with a huge focus on the reliability and performance of the existing product.
Glad to inform you all that we completed several of the larger items on our to-do list and we are all set to let the world taste the Blue Honey!
This means you will start seeing more and more of the product features coming to life in the upcoming weeks.
Here's a detailed account of what we've completed recently—and what you can see when you install the updated Chrome extension.
But, before that, something quick on the Blue Honey.
Why Blue Honey?
We could name this update literally anything in this world, but why Blue Honey? Well, there is a story behind it.
StoryXpress is not just a video platform, it's a platform for high-performing teams that lets them tell their business stories.
We, at StoryXpress, value the customer feedback a lot and make sure that we address everything that our users convey.
And, it's not just the features, but the overall look and feel of the product. StoryXpress is a platform that users trust with their valuable and confidential business content.
It was becoming increasingly essential for us to ooze that much-needed trust and security. Because, it's only if you trust something, that you would stick to it, right?
After several brainstorming sessions, we reached onto the conclusion that it's high time we give the product its long due UI and UX overhaul.
Although StoryXpress has already been very smooth and easy to use, we wanted the experience to be even smoother, maybe as smooth as honey!
And, we are glad to claim that we achieved it.
Over the next few months, we not only added a few very cool features but also re-worked the entire UI and UX.
We packaged everything together and named it the #BlueHoney update, because, no prizes for guessing, this version feels as smooth as honey!
As you install the updated version, don't forget to check out the bright and bold blue that we have switched to. And, if you are someone who uses StoryXpress for multiple hours a day, for instance if you use it to record your online lessons, we are sure you'd love it.
What else is new? Let's see!
What's New?
A Complete UI Overhaul
Remember how the old StoryXpress Chrome Extension looked like?
Well, here's how it did:
And, here is how it looks like now: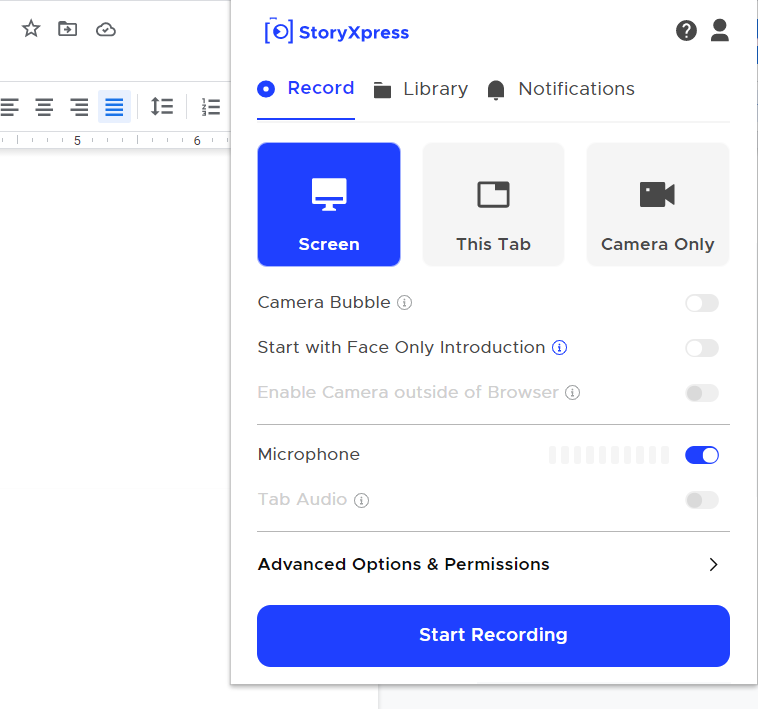 Feeling the difference?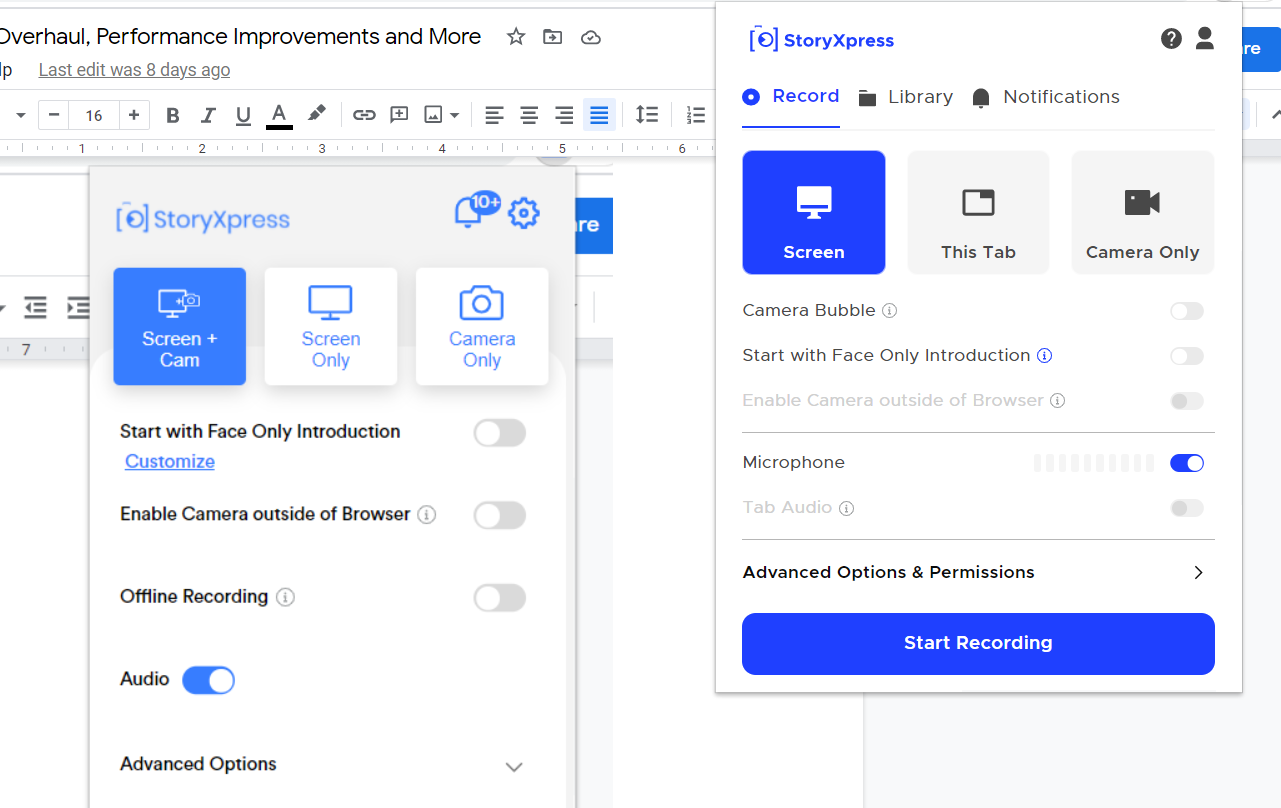 While the majority of the team has been working on larger items, we have carved out a bit of time to work on polishing the StoryXpress interface.
We received some great feedback from our customers (thank you!) on the overall look and feel of the extension and had a lot of brainstorming sessions.
We took in all the great feedback received over the last few months, coupled it with the ideas discussed during brainstorming sessions, and did a complete UI overhaul.
The new extension has a cleaner, modern look that you can feel at the first glance. You can spot that it's a broader box now, with improved features and more prominent buttons.
Plus, with the new extension, you don't need to go to the StoryXpress dashboard time and again to see your video library (a collection of all the videos that you recorded using StoryXpress/uploaded to it).
You may now access the video library right from the extension icon, like this: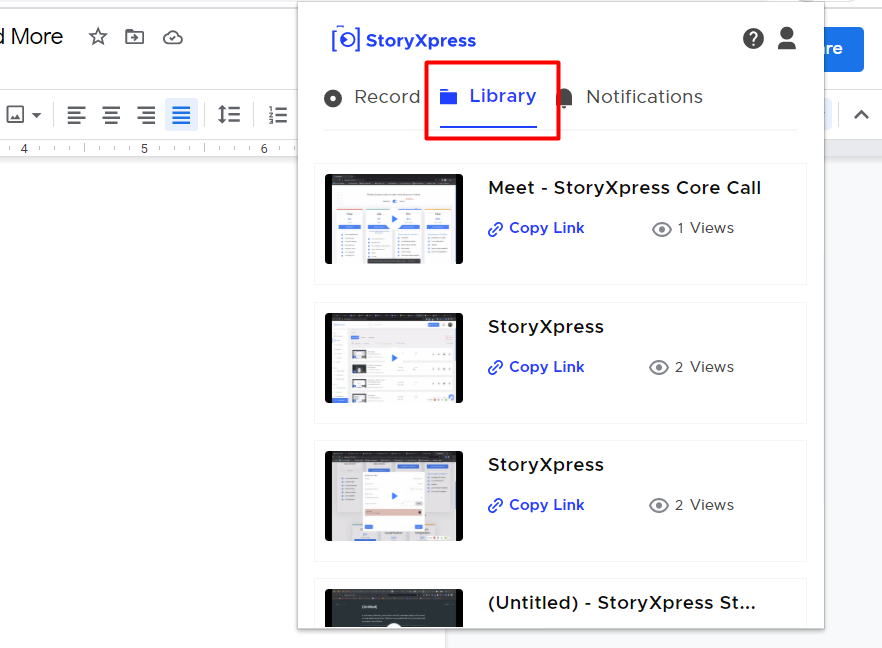 Click on "Library" and you see all of your videos.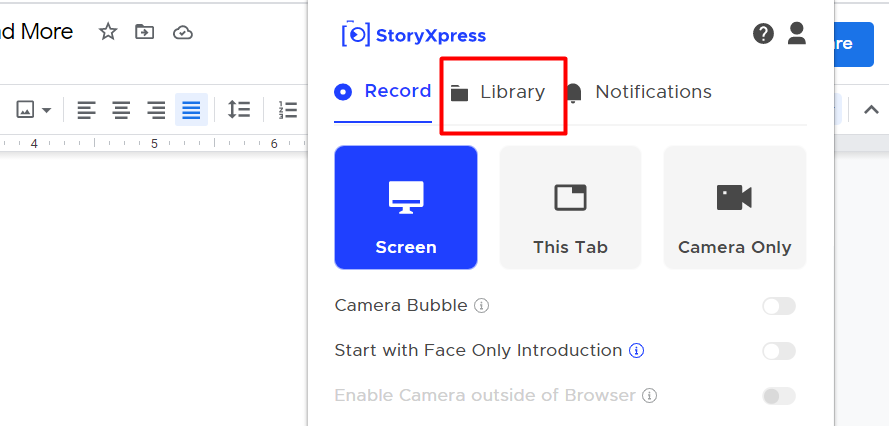 Although we feel that the new StoryXpress UI is a lot easier to use and navigate through, you may feel stuck. However, no worries there, we got you covered.
The help center is just a click away now. Click this question mark icon and you'd land directly at our help center.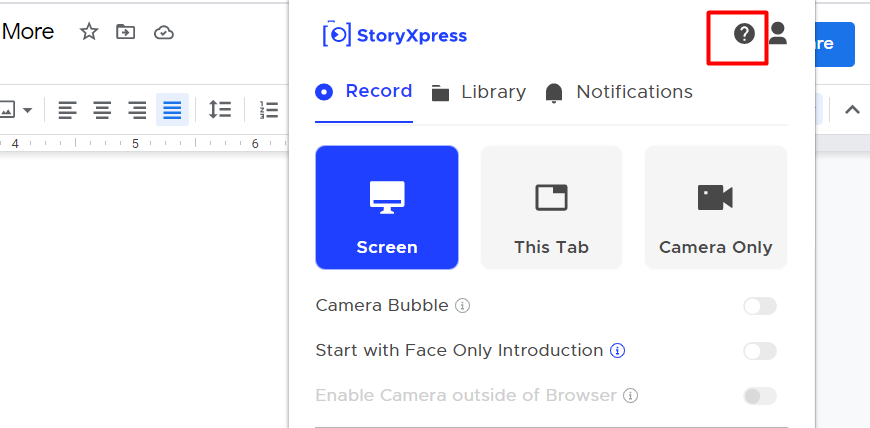 And, if you want to manage your subscription or log out, this will be of help: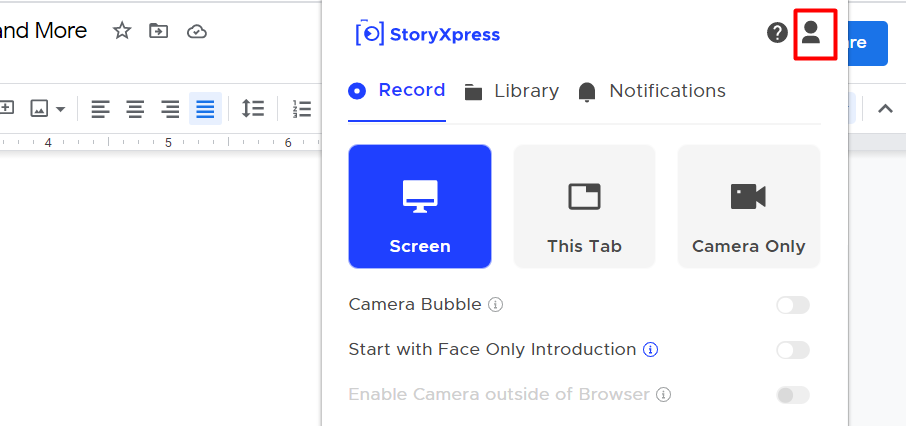 Click on the icon and you'd see your account details.
Recording the System Audio
Since the day we launched the StoryXpress Screen Recorder, there have been a lot of requests for a feature that lets you record system audio.
And amidst the pandemic, the frequency of such requests grew exponentially.
We heard you and we made it. The new StoryXpress Screen Recorder lets you record your system audio.
What does that mean?
To put it simply, earlier while recording a video using StoryXpress, you could record what you spoke using your microphone but not any of the system sounds.
For instance, if you attempted to record a Google Meeting using StoryXpress, you'd record whatever's going on the screen and whatever you spoke but not what the other participants on the call were speaking.
However, now, with the new StoryXpress Screen Recorder, you can do that! Now, you can record what you speak as well as what your fellow participants on the call speak.
This implies that recording Google Meetings, Zoom calls, webinars, interviews, etc. is now possible using StoryXpress. Sounds interesting? Go ahead and give it a shot!
All you have to do is, turn this knob on: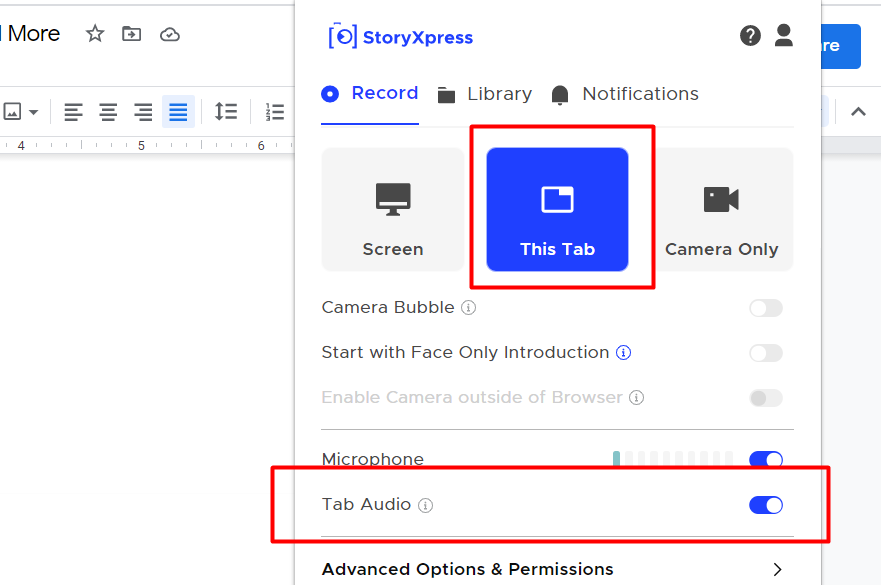 But, remember, you can't switch tabs in between. Once started, you may record the audio and video from that tab alone.
Smart and Smooth Annotations
Annotating while recording a video using StoryXpress was possible earlier as well but it's a lot easier, faster, and better now.
How exactly?
For starters, no more struggling with pointed edges, the curves will be easier to draw and smoother in appearance.
Another cool update - whatever you draw disappears automatically after five seconds. This means that you no longer need to manually erase the curves you draw to catch your prospect's attention.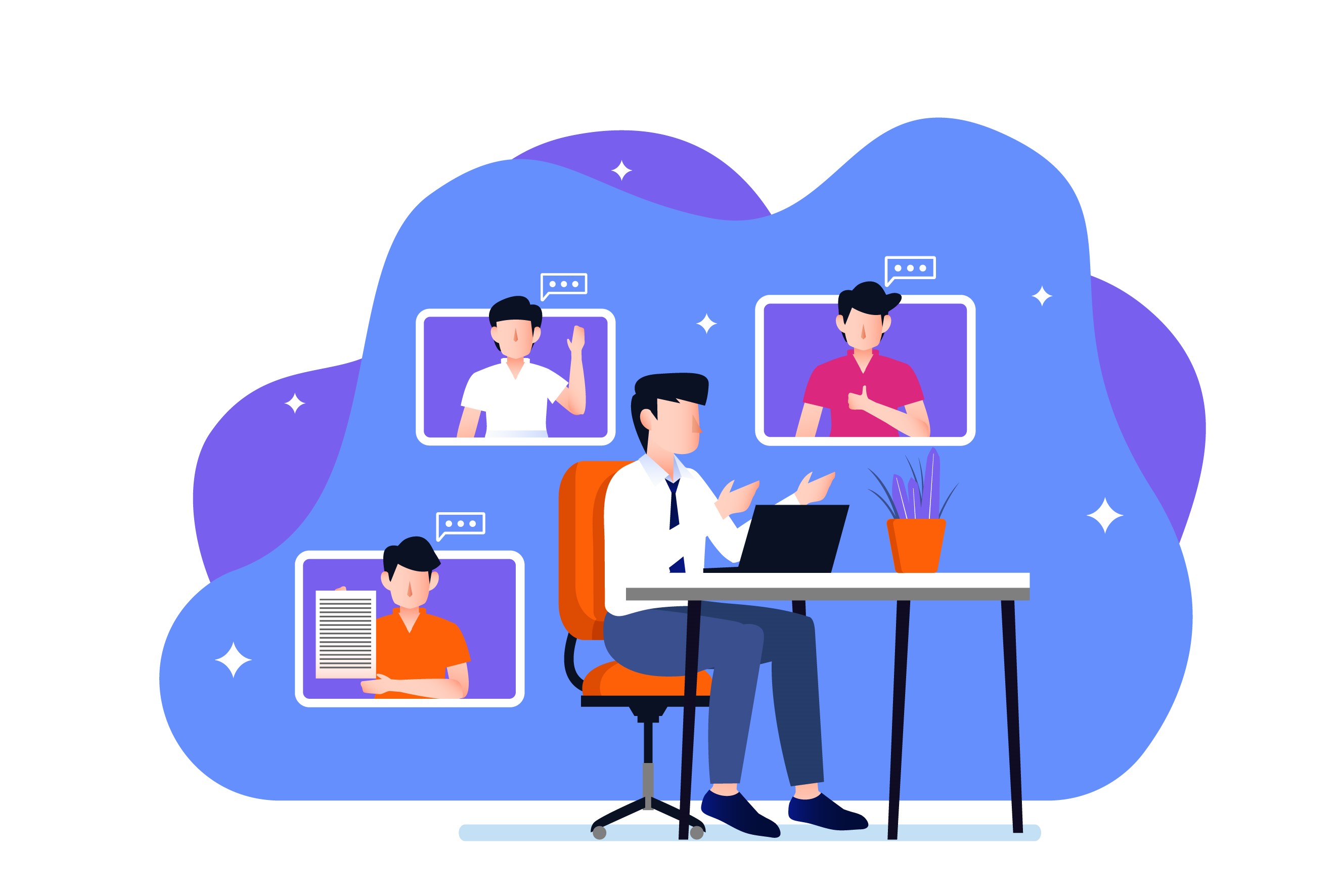 Create Your First Video Now
You can do it!
Get Started
What else? Well, we had been hearing that the menu is a bit overwhelming. And, we couldn't agree more.
We took out the options least used such as typing during recording a video and tried making it a bit easier to use and navigate while you're in the middle of recording a video.
Primarily, it means that with the new version, while you're recording a video you don't have to juggle between drawing, typing, pen, pencil, eraser, or anything else.
The updated extension provides you with a highlighter pen (you can select the color and size of the pen) that you can use to highlight stuff on the screen while recording a video, whatever you draw disappears on its own after five seconds.
Easy peasy? Great!
0% Failure Rate [No More Videos Getting Lost]
Okay, we feel this one was much needed.
StoryXpress has been a well-behaved tool but sometimes our users were facing issues uploading videos due to poor internet connectivity.
What was going wrong? Suppose you created a 2 hours long video. Before the update, as soon as you finish recording, we used to upload your video and while it got uploaded, you couldn't access it. You'd land on the dashboard and all you could see was a progress bar indicating the status of uploading.
If during the process, your internet connection died, or uploading failed, you used to lose your video (that you created after two hours of hard work).
This was rather disappointing and as soon as we saw users raising support tickets for this, we decided to take this up on priority and it's done! We solved it.
With the new StoryXpress Screen Recorder, as soon as you complete recording your video, you land on a page that's locally hosted (hosted on your system), that looks like this:
Thus, while your video gets uploaded, you can play it again and see how it is.
Further, you can track the progress of your upload and retry uploading in case it gets failed due to internet connectivity issues. If the uploading is stuck, you can download the video and then upload it by going on Storyxpress Dashboard. Since the video is first saved in your local storage, it never gets lost.
Once the video is uploaded, the progress bar gets replaced with "Go to Dashboard" clicking on which takes you to the dashboard where you can edit your video - Add Call-to-Actions, trim, crop, or blur certain sections, create thumbnails, and so on.
That's all for now.
Apart from these major (read life-changing) updates, we fixed a few minor bugs here and there.
For instance, we had users reaching out to us for issues with permission handling. Even after allowing StoryXpress to access their web camera and microphone, they were being nudged to grant access. That is solved now and you won't have to deal with it anymore.
We hope these updates make your video recording journey smoother.
We're confident that you'd love these updates. Why don't you give them a shot right away? Download the extension here.
It'd be great if you use a few minutes to share your feedback here.
Stay tuned for more updates and yes, if you have some cool feature ideas on your mind, don't forget to write to us at support@storyxpress.co. We read every single email that we receive! Cheers!