In the world of eCommerce optimization, where every detail can potentially skyrocket your product's visibility and sales. Particularly, when we talk about Target.com, one of the largest and most influential eCommerce platforms in the United States, understanding the subtle nuances of product listing optimization becomes absolutely critical.
So, why does optimizing product listings on Target.com matter?
Simply put, the answer is competition and visibility. With thousands of brands vying for customers' attention, it's crucial to differentiate your products. Optimized listings not only improve the visibility of your products in Target.com's search engine but also enhance the customer experience, making it more likely for them to click "add to cart.
Selling on Target Plus Marketplace

Understanding the Target Seller Marketplace:

The Target Plus Marketplace is a selective platform that partners with third-party sellers to enhance Target's product offerings and deliver a more comprehensive shopping experience to its customers. Unlike other online marketplaces, Target Plus carefully chooses the retailers it collaborates with, ensuring that they align with Target's brand values, reputation for quality, and commitment to customer satisfaction.
Benefits of selling on Target Marketplace:
Being a part of Target Plus Marketplace can offer a multitude of benefits:
Reputation and Trust: Target is a well-known, trusted brand, and being associated with it can lend credibility to your products.
Increased Visibility: As a seller on Target Plus, your products can gain visibility amongst a broad and diverse consumer base.
Dedicated Support: Target offers robust seller support, helping you effectively manage your product listings, navigate the marketplace, and maximize your selling potential.
Curated Marketplace: Due to Target's selective nature, the marketplace is not overly crowded, giving your products a better chance of standing out.
Requirements to sell on Target Marketplace:

Selling on Target Plus Marketplace requires an invitation from Target. The company typically seeks partners who can provide unique, high-quality products that enrich their existing catalog. Other criteria include:
Strong Track Record: Sellers should have a proven history of marketplace sales, preferably with other major online retailers.
Commitment to Customer Satisfaction: Sellers must align with Target's dedication to providing excellent customer service. This includes offering seamless delivery, effective problem resolution, and swift customer support.
Operational Excellence: Sellers must demonstrate capabilities in inventory management, order fulfillment, and shipping efficiency.
Product Assortment: Sellers should offer a diverse product range that complements Target's current offerings.
Remember, selling on Target Plus isn't merely about getting your products listed; it's about becoming a partner in Target's commitment to providing customers with a superior shopping experience. That entails maintaining high-quality product standards, seamless service, and a customer-focused approach.
Building Best-Selling Product Pages on Target.com
Creating best-selling product pages on Target.com is an art informed by data. It's a combination of understanding Target's digital strategies, recognizing the importance of customer engagement and content conversion, being familiar with the layout and elements of the Product Detail Page (PDP), and studying examples of successful product pages.
Understanding Target's Digital Strategies

Target's guest experience stats are a testament to their effective digital strategies. A whopping 81% of customers conduct online research before buying, with 71% of this research conducted on Target.com.
Customers spend an average of 16+ minutes comparison shopping before making a purchase, indicating that informative and engaging content can make a difference in their buying decision.
Furthermore, Target.com has observed that 67% of customers' buying/purchasing journey is now done digitally, underscoring the importance of a robust digital presence.
Target places a significant emphasis on providing content throughout the buying process, as a striking 95% of customers prefer brands that do so.
The platform encourages sellers to cater to this customer preference by providing diverse content that appeals to different shopping styles and preferences.
Importance of Customer Engagement and Content Conversion

Guests expect content in various forms, through different devices. Various content types have different impacts on conversion rates, as observed on Target.com.
Size charts have the highest conversion rate (3.7x), followed by user-generated content (3.6x), video (3.5x), Q&A (3.0x), ratings/reviews (2.3x), rich media (2.2x), long copy + item attributes (2.2x), and images (1.6x).
To help vendors track their performance, Target offers a "Content Health Scorecard," a tool that analyzes the content on PDPs and provides a score reflecting how well the page is likely to engage customers and drive conversions. Target recommends this score should be more than 80.
A Quick Tour of the Product Detail Page (PDP)

The PDP on Target.com has several crucial elements:
Product Title: Handled by Target to ensure SEO effectiveness.
Images: At least 3 to 5 unique images are recommended for better engagement.
Video: Positioned third in the media section, videos significantly boost conversion rates. It's seen that PDP with video converts (3.5x) more than those without.
Product Details: Divided into two sections - the first section focuses on feature bullets (highlighting item details, features, and benefits), and the second section includes a long copy (detailed product descriptions ideal for SEO and keyword usage).
Merch Type Attributes (MTAs): A section for technical item information. It's crucial to maintain accuracy here to avoid customer confusion.
Badges: Created by Target based on the MTAs provided by sellers. Examples include "clean," "biodegradable," and "cruelty-free."
UGC Section: User-generated content significantly increases the time visitors spend on the site.
Rich Media Section: This section, usually at the bottom of the PDP, allows sellers to visually tell a compelling product story, great for SEO, and helps customers quickly understand the product.
Rating and Review Section: Even one review can result in a 2.5x lift in conversion. Items with at least 8 reviews show the most benefits.
Guest Q/A Section: Guests who receive an answer on Target.com within 48 hours are 3.4x more likely to purchase.
Label Info Section: Critical for food-related products, it positively impacts customer conversion.
Size Chart Section: While not applicable to all categories, it has extremely high engagement rates. Target creates these charts internally based on information provided by vendors.
Analyzing Best-in-Class Product Pages

When examining the top-performing product pages on Target.com, we can see some patterns that can provide valuable insights. Some best-in-class examples include:
Brand: Chicco

Category: Infant Car Seat

The Chicco car seat page stands out due to its effective use of high-quality images and videos, detailed product specifications, and compelling product descriptions.
It's evident that rich media, including images and videos, plays an important role in showcasing key features and providing the detailed information shoppers want, particularly for high-consideration products like baby gear.
Chicco has enhanced content for 65% of its product catalog on Target, a strategy that significantly aids customer decision-making.
Brand: Vizio
Category: Smart HDTV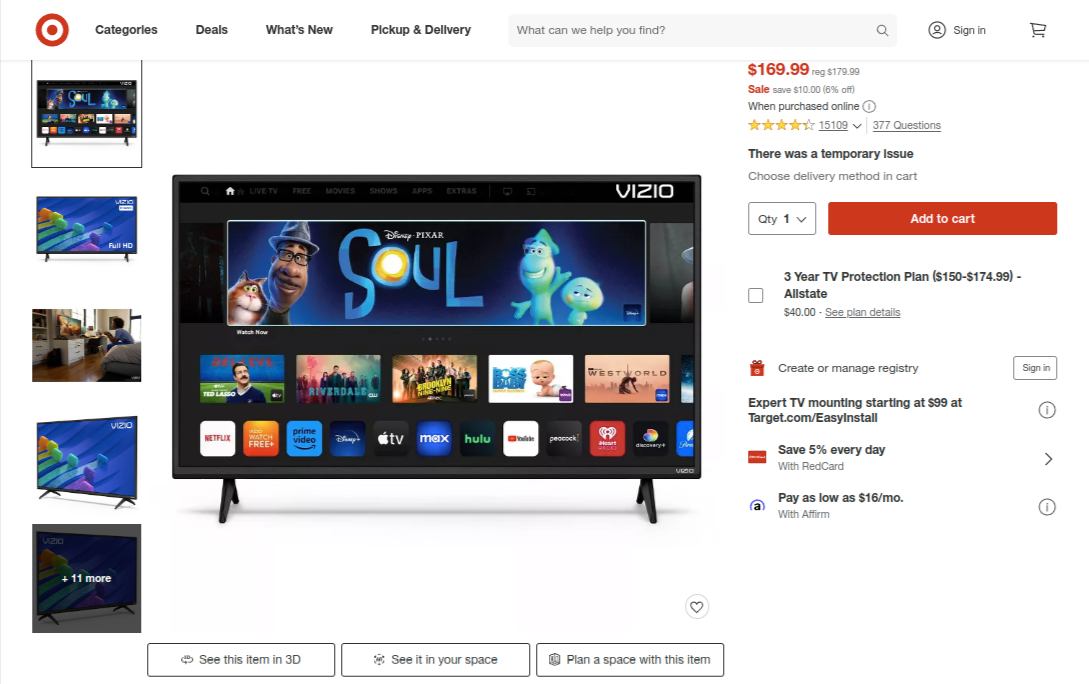 The Vizio TV product page uses video content and user reviews brilliantly. These elements are particularly critical for high-consideration products like electronics.
Target has seen a four-times increase in conversions when reviews are present on the product detail page (PDP). Target also offers review summary capabilities, allowing guests to get a clear understanding of the product without reading all reviews.
Brand: Kellogg
Category: Rice Krispies Cereal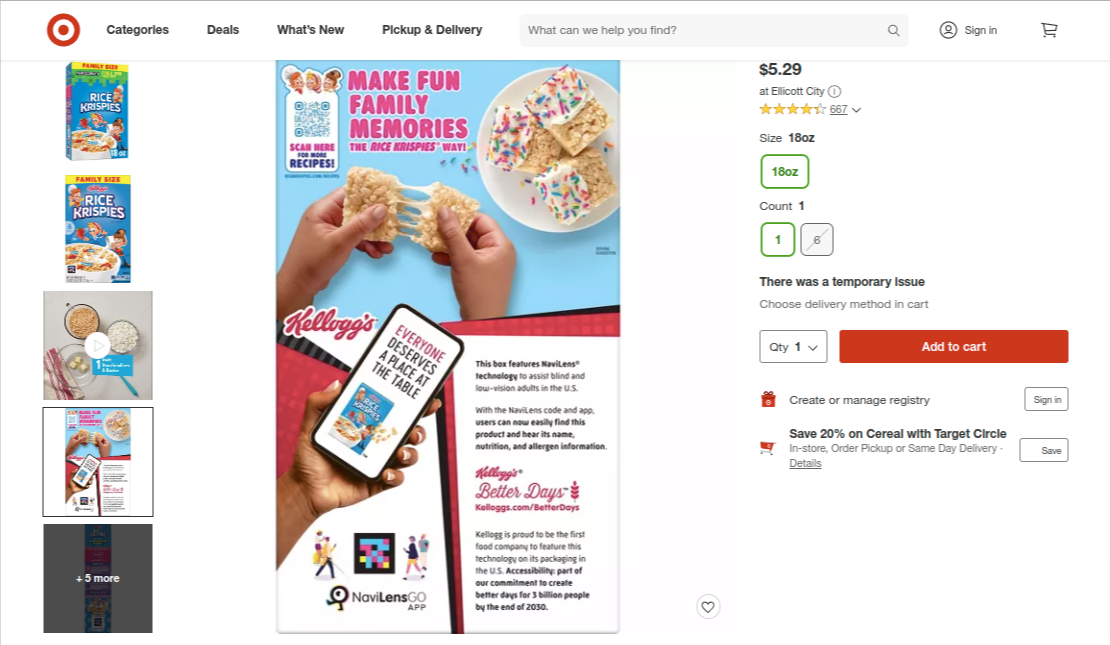 Kellogg's Rice Krispies Cereal page demonstrates the importance of label information for grocery items. This transparency has proven crucial for conversion, as guests who spend time interacting with label information are more likely to purchase. Brands can also leverage rich media to showcase recipes or how-to information, further engaging potential customers.
Brand: Cat & Jack
Category: Apparels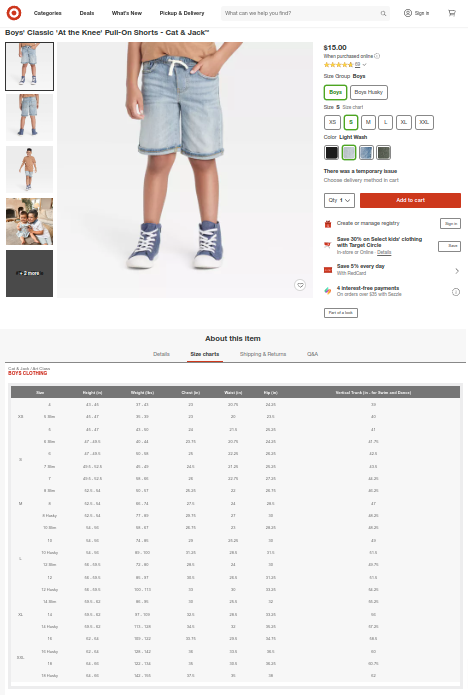 For apparel, size charts play a critical role, as seen on the Cat & Jack product pages. They have used it to great effect, leading to improved customer experience and conversions.
Brand: Revlon
Category: Beauty Products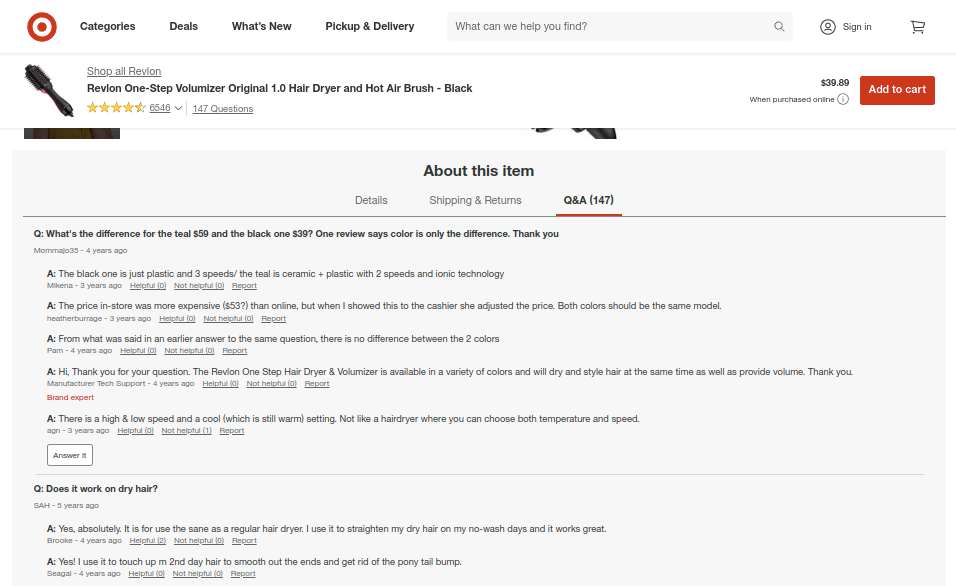 Revlon's product pages underscore the value of features like answered questions and chats, as well as the use of rich media to provide detailed product information.
These examples provide invaluable insights and ideas for creating compelling, engaging, and conversion-optimized product pages on Target.com.
Frequently Asked Questions about Target Plus Marketplace

Who can sell on Target Plus?

Selling on Target Plus is not an open marketplace like Amazon or eBay where anyone can set up shop. Rather, it's an invite-only marketplace, and Target curates a selection of third-party sellers to join.
Target Plus seeks to partner with quality sellers who can deliver a seamless guest experience that aligns with Target's brand and high standards.
These sellers are typically those who offer unique or complementary products to what Target already has in its vast inventory or those who have a track record of exceptional customer service.
While Target Plus is growing, it's still selective, so the chance to become a seller there is an exceptional opportunity.
What are the image requirements for Target Plus?

Product images play an essential role in influencing the purchasing decisions of customers. Target Plus, they have particular image requirements to ensure a consistent, high-quality visual experience for shoppers.
For each product listed, you should provide a minimum of at least one main image. Here are the main image requirements:
The image should be in color and must represent the product being sold.
Image resolution should be a minimum of 1000x1000 pixels to support zoom functionality, although 1500x1500 pixels or more is highly recommended for optimal clarity.
The product should fill 85% or more of the image frame.
Backgrounds must be pure white (RGB 255,255,255).
The image must not contain additional text, graphics, or inset images.
Furthermore, it's beneficial to include additional secondary images that show the product from different angles, display the product in use, or highlight key features.
The image quality can significantly affect your product's perceived value and the customer's decision to purchase.
Remember, the image should accurately depict what the customer will receive; discrepancies can lead to returns and negative reviews, which could impact your seller performance metrics and standing with Target Plus.
Conclusion

In conclusion, success on the Target Plus Marketplace hinges on understanding the platform's specific requirements and utilizing best practices for product listings. Emphasis on unique content, customer engagement, and the clever use of SEO strategies is key.